RACING THIS WEEK
FEATURES
SERVICES
Home
>
Preview Racing
>Rematch Looms For World Champion Danjer and Multiple Stakes Winner Jess My Hocks In Debbie Schauf
Jess My Hocks, consecutive Leo Stakes winner, is expected to attempt to win his first Debbie Schauf Remington Park Championship on Saturday, May 28.

© Dustin Orona Photography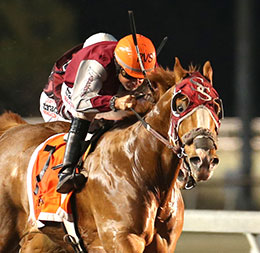 Rematch Looms For World Champion Danjer and Multiple Stakes Winner Jess My Hocks In Debbie Schauf
OKLAHOMA CITY, OK–MAY 19, 2022–It appears we are headed for yet another matchup between American Quarter Horse Association World Champion Danjer and multiple stakes winner Jess My Hocks in the upcoming Grade 1, $250,000 Debbie Schauf Remington Park Championship. The big event for older horses is part of a stellar program on the final night of season, Saturday, May 28.
Danjer and Jess My Hocks are expected to be surrounded by stakes winners on a national scale in what appears to be one of the best races set for this invitational event at the classic distance of 440 yards.
Danjer, the 2021 World Champion, was beaten in the Leo Stakes this year and last year at Remington Park by Jess My Hocks. However, between those two losses, the 6-year-old gelding won five stakes races at five different tracks as he traveled the country on a victory campaign that had politicians wanting to know his secret.
After losing the Leo in 2021, he won the Debbie Schauf Remington Park Championship, defeating Jess My Hocks in the process. That was the beginning of a string of black-type wins, continuing with the Canterbury Park Championship Challenge in Minnesota on July 6.
The gelded son of three-tine world champion sire FDD Dynasty, out of the Take Off Jess mare Shez Jess Toxic, then shipped to the mountains and won the All American Gold Cup at Ruidoso in New Mexico on Sept. 6 after a couple of months off. Trained by Dean Frey and owned by Frey and Downtime Enterprises, Danjer then won on Oct. 23 in the Challenge Championship at the Downs at Albuquerque before concluding his year with a trip to the winner's circle at Lone Star Park in Grand Prairie, Texas, on Nov. 27 in the Refrigerator Stakes.
Danjer will have to prove himself all over again as, like last year in his first start of the year, he was defeated. This year, he began his 6-year-old season with a loss to Jess My Hocks in the Leo Stakes again. Danjer pulled back in his starting position when the gate was opened, breaking well behind his rivals in the Leo. He eventually ran eighth in a field of 11.
Danjer was ridden to all his victories last year by Cody Smith, a top-five jockey at Remington Park all year. Smith was off Danjer in the Leo, however, as he was recovering from an ankle injury. Francisco Calderon, Remington Park's top jockey this season, took command and had to deal with that poor start and eighth-place finish. Danjer's career record: 27 starts, 15 wins, six seconds and three thirds for earnings of $1,503,975.
Jess My Hocks ran fourth in the championship last year, losing to Danjer by 1-3/4 lengths, but he has been nothing but amazing in his last two starts at Remington Park, winning both the Bank of America Remington Park Challenge and the Leo.
This huge 1,300-pound plus monster of a horse is owned by Tom and Kathy McNally of Guthrie, Okla., and trained by Michelle Hurdle. Rodrigo Vallejo rode him to victory in the Bank of America and then Mario Delgado booted him home in the Leo. Jess My Hocks' record: 19-10-0-4, $410,552. An Oklahoma homebred, Jess My Hocks is by multiple stakes sire Kiss My Hocks from the Take Off Jess mare Jess Charlena.
Here are the rest of the invitees in alphabetical order and their accolades:
Big Eagle Gone, owned by Rachuan Suarez and trained by John Stinebaugh, ran second, beaten only a half-length by Jess My Hocks in the Bank of America Remington Park Challenge. A son of leading thrid-crop sire One Fabulous Eagle has an 8-3-1-1 record and has $86,270.
Candy Blood, owned by Rick Sumner and Dunn Ranch (Matt Dunn), this Apollitical Blood gelding won the Sooner State Stakes at Remington Park on April 16 this year and was beaten only a neck in last year's Remington Park Derby by Empressum on April 17. Record: 18-9-3-1, $477,475.
Flash Bak, a son of champion Mooin The Eagle owned by Valeriano Racing Stables and trained by Jaime H. Gomez, won the Los Alamitos Super Derby last November and the Los Alamitos Winter Derby in February. Record: 18-8-6-1, $1,072,374.
Instygator, owned by Barboza Racing Corp and trained by leading conditioner Santos Carrizales, Jr., won the All American Derby at Ruidoso in September and the Championship at Sunland Park in January before running second, beaten a half-length by Jess My Hocks in the Leo this year. The son of multiple staks sire Ivory James has a record of 13-8-4-1, $1,472,531.
Midday News, owned by Linda Joiner, Pat Smith, IzoraSouthway, Holly King and Kelly Allen, won the SLM Big Daddy Stakes at Remington Park in 2021. He is trained by Michael Joiner. Record: 24-6-4-7, $310,680. He is also by FDD Dynasty.
O Donovan Rossa, owned by Loyd J. Yother and J. Garvan Kelly, was this year's winner of the SLM Big Daddy in Oklahoma City. The son leading sire Apollitical Jess is trained by Dee Keener. Record: 21-4-4-3, $105,910.
Relentlessly, owned by Aguila Negra Racing and trained by Jose Huerta, is a multiple stakes winner and loves Remington Park, winning 6-of-10 tries here. The of multiple stakes sire Hes Relentess has captured two stakes already this meet, taking down the Bob Moore Stakes and the Eastex Stakes on April 16 and March 19, respectively. He also won the Heritage Place Derby here on May 29, 2021. Record: 15-8-3-1, $343,743.
Shott Gun, owned by Bobby D. Cox and trained by Heath Taylor, has not raced this year, but last year ran fourth in the All American Derby, 2-1/4 lengths behind Instygator and won the 2020 Heritage Place Futurity at Remington at 17-1 odds, so he knows how to pull off the upset. The son One Fabulous Eagle has a 13-6-2-1 record and has earned $513,509.
The post-position draw for the Debbie Schauf Remington Park Championship will be conducted on Wednesday, May 25. The top older horse event on Champions' Night at Remington Park is just one of 10 stakes events on a program with total purses expected to be well above $2 million.

Remington Park racing continues Friday at 6pm. Saturday racing starts earlier than normal at Noon, featuring the Jack Brooks Stakes, the Boyd Morris Memorial and the FL Lady Bug Stakes. The Preakness Stakes simulcast will take place after the live racing concludes. Sunday racing begins at 4pm. All times are Central.

* * * * * * * * * * * * * * * * *
Tracked by more than 170,000 fans on Facebook and 10,600 Twitter followers, Remington Park has provided more than $290 Million to the State of Oklahoma general education fund since the opening of the casino in 2005. Located at the junction of Interstates 35 & 44, in the heart of the Oklahoma City Adventure District, Remington Park will feature the $1,102,440 Heritage Place Futurity and the $250,000 Debbie Schauf Remington Park Championship on May 28. Simulcast horse racing is featured daily at Remington Park where the casino is always open! Visit remingtonpark.com for more information.