RACING THIS WEEK
FEATURES
SERVICES
Chicks Favorite, under jockey Jonathan Roman, pulls away in the $25,000 Blane Schvaneveldt Handicap on Saturday at Los Alamitos Race Course.

© Wzuazo Photography21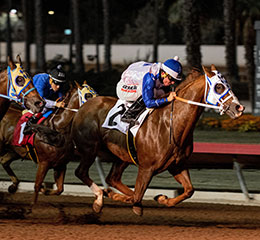 Veteran Chicks Fayvorite Earns Richest Win In Schvaneveldt Handicap
LOS ALAMITOS, CAóOCTOBER 2, 2021ó
At the venerable age of 8, Martha Wellsí Chicks Fayvorite has become a multiple stakes winner. His first ever stakes win came on February 5 when he won the Allred Brothers Stakes at Turf Paradise. His second and richest stakes win came on Saturday night after the gelding by
Favorite Cartel
won the $25,000 Blane Schvaneveldt Handicap at Los Alamitos.
Martha Wells could not have been prouder of her homebred runner, as the veteran has faced the starter 52 times resulting in nine wins, 25 top three finishes and earning $140,246 after picking up a check for $13,750 for winning the Schvaneveldt. The fact that it came in the race named after the legendary horseman made it even sweeter for "Mimi" Wells.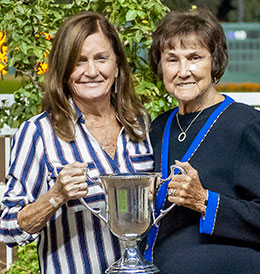 Shirley Schvaneveldt presents winning owner Martha Wells the Blane Schvaneveldt Handicap stakes trophy at Los Alamitos Race Course.
© Scott Martinez
"It is so special," she said. "Iíve wanted to win the Blane because Blane was here, gosh, when I first started out in 1972. He was the greatest. I know his whole family, watched them all grow up and theyíre fabulous. This horse, Chicks Fayvorite, just turned eight. Heís getting up there (in age) and Iím getting up there too. Itís fabulous to win the Blane Schvaneveldt."
In the winnerís circle, Shirley Schvaneveldt, Blaneís wife, gave Mimi a big embrace while the two had sweet, loving words for each other in the winnerís circle.
"It canít be any better than that," Wells added. "I just love it that Shirley was here and I love her. I love her children and her grandchildren. This was definitely a family moment with such a nice crowd at Los Alamitos."
Wells added that Chicks Fayvorite will have a home at her ranch once he retires.
"Heíll be my riding horse," she said. "Heís the perfect size."
Out of the great broodmare Chicks Tell, Chicks Fayvorite won this race by a half-length and in a winning time of :20.158.
Winning trainer Matt Fales tied Bret Vickery for most wins in the Blane Schvaneveldt. Fales had previously won this race twice with Jess A Cowboy in 2017 and 2019. For Jonathan Roman, this was his first win in the Schvaneveldt.
Fales also saddled the runner-up, Delila Rose, who earned $5,625 for owner Justin Lewis. Ruben Lozano piloted the Carters Cartel filly.
Staubach ran third and was followed by Bar Fighten and Apollitical J One.
* * * * * * * * * * * * * *
For more info, please contact larace@losalamitos.com. Follow us on Twitter or Instagram at @losalracing or visit us online at www.losalamitos.com.