RACING THIS WEEK
FEATURES
SERVICES
Chance To Excel, under jockey Jose Nicasio, romped to the fastest qualifying time with a 1- ¾ length win in Sunday's Ed Burke Million Futurity(G1) trials.

© Scott Martinez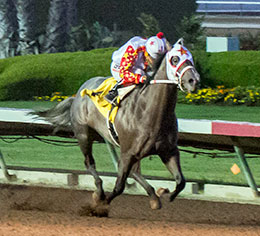 Excellent Performance From Chance To Excel In Ed Burke Million Futurity Trials
LOS ALAMITOS, CA—JUNE 7, 2020—
Valeriano Racing Stables' Chance To Excel recorded the fastest 350-yard clocking by a 2-year-old at Los Alamitos since AQHA champion Heza Dasha Fire in 2014, while easily posting the top qualifying time to the $1,115,000 Ed Burke Million Futurity here on Sunday night.
Ridden by Jose Nicasio for trainer Monty Arrossa, the gelding by Favorite Cartel covered the distance in :17.311, the quickest time by a juvenile at the Orange County track since the great Heza Dasha Fire stopped the clock in :17.223 to win the Ed Burke Million Futurity on June 22, 2014.
The Ed Allred-bred Chance To Excel dominated his trial, as he finished 1 ¾ lengths ahead of Parsons Family Limited Partnership's Terrific Temper. The Tempting Dash filly was outstanding in defeat, as she ended the night with the second fastest qualifying time of :17.590.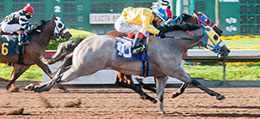 Strange Fellows (#10) and Bf Outfoosed (#2) qualifying in the second trial on Sunday.
© Scott Martinez
After finishing 1-2 not only in their trial, but on the list of qualifiers to the fourth richest running ever of the Ed Burke Million, Chance To Excel and Terrific Temper will be joined in the June 21 final by Strange Fellow, BF Outfoosed, La Jaconde, Coronas Big Flash, Jess Lyndes Reason, SC Divas Cartel Man and Jess Paint Me.
Without a doubt, Chance To Excel was the star of the night. The gelding by Favorite Cartel out of Elans Last broke sharply from post number four and quickly opened a half-length advantage over Robert Adair Kindergarten Futurity finalist PYC Powerglide. A few strides later and Chance To Excel had a length advantage. Then, a few strides later, Chance To Excel was well clear of his rivals in route to his second victory in as many starts for Arrossa.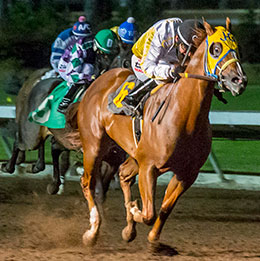 Robert Adair Kindergarten Futurity(G2) winner La Jaconde posted the fourth fastest time in ninth trial.
© Scott Martinez
"He's done everything right for us," said Arrossa, who started training Chance To Excel after the gelding finished out of the money in his racing debut on April 25. "I was training some horses for (Valeriano Racing Stables) in Oklahoma and they asked me to train this horse after they ran him the first time. I have spent a lot of time with him. I have to thank (Chance To Excel's) groom, Alvaro Diaz, has done a great job with him. My assistant trainer, Jessie Carrillo, has spent a lot of time with him as well. He has gotten him comfortable on the racetrack and comfy in the gate. He is doing things right. He likes to win. When we first got him, he was a little wild. We had a hard time ponying him. We spent a lot of extra time walking, relaxing him, doing things just trying to get him to calm down and be quiet at the racetrack. It's paid off for us."
Chance To Excel won his first start for Arrossa in a 300-yard time of :15.44, which at the time was the fastest of the meet by a 2-year-old. He improved even more in his return start.
That's R Best Card, under jockey Oscar Peinado, qualified
in the opening trial on Sunday.
© Scott Martinez
"He's just really matured," Arrossa added. "He's happy, sound. likes to go to the track and is eating great. I know he was doing well, but you never expect them to do that in the trials. You hope they do good enough to qualify."
Purchased for $45,000 at Los Alamitos Equine Sale, Chance To Excel is out of Elans Last, who is also the dam of stakes winners Chance To Fire and Nymph. Chance To Fire ran third in the Ed Burke Million in 2017. Chance To Excel's granddam is Elans Special, the millionaire winner of the 1987 All American Futurity.
Coronas Big Flash, under jockey Armando Cervantes, qualifying off the inside rail in trial 11.
© Scott Martinez
A total of 109 juveniles competed in the 12 trials with the horses with the 10 fastest times returning here for the fourth richest running of the Ed Burke Million. Ridden by Eduardo Nicasio for trainer Chris O'Dell, Terrific Temper finished strongly on the way to the second fastest qualifying time. The filly has had her ups and downs. The first time that she was entered to run she had to be scratched after getting loose and taking off running behind the starting gate. O'Dell entered her back to race a few weeks later, but she was scratched out of the race once again.
"After she got loose, we entered her again and she got sick," said O'Dell. "I ran her just two weeks ago (a second-place finish on May 24) so she had to bounce back pretty fast for this race. We know that she is fast. We have always known that. Her sister was fast. If they focus, they are fast. Tonight, she had a good clean shot and ran a super nice race. The Parsons are going to be so happy. They will be walking on air. It's nice to raise one, see it qualify to a million-dollar race and with one of the fastest times. There is a lot of upswing with Terrific Temper. There's a lot of upswing to that Chance To Excel too. We may be running for second place money if he comes back and runs another race like he did tonight."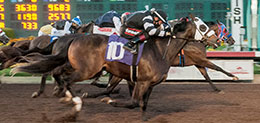 In a blanket finish Jess Lyndes Reason (#7) and Sc Divas Cartel Man (#10) qualify in the sixth trial.
© Scott Martinez
Terrific Temper's dam is the outstanding broodmare Terrific Energy, who has produced the likes of 2019 Grade 1 Charger Bar Handicap winner Thermonuclear Energy, Grade 3 La Primera Del Ano Derby winner Terrific First Down and Grade 1 futurity finalists Geothermal, Terra Fire and Tea Pod. Geothermal ran third in last year's Ed Burke Million final.
Junior Quarter Horses Inc.'s Strange Fellow was a big-time standout during the morning workouts at Los Alamitos so it was a bit surprising to see him go winless in his first two career starts. The Seperate Interest is a maiden no more after posting the third fastest qualifying time following a photo finish victory in the second trial of the night.
Living up to his early promise, Strange Fellow finished with the third fastest time of :17.630 after hitting the wire a nose ahead of Kim and Les Sweeting's BF Outfoosed, who covered the distance in the fourth fastest clocking of :17.634. A gelding by Foose out of the Proudest Effort mare BF Outrageous, BF Outfoosed came in after scoring a ¾ length maiden win on May 17 for trainer Paul Jones.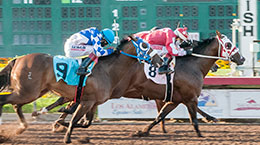 Jess Paint Me, under jockey Cruz Medez, qualifying in the fourth trial on Sunday.
© Scott Martinez
As for Strange Fellow, the Ed Allred-bred runner was purchased for $22,000 at the Los Alamitos Equine Sale. The gelding is out of the Stel Corona mare Quirky, the 2015 AQHA champion aged mare. He posted the third fastest of 10 gate drills on March 3 and the fastest of 19 drills on March 19 before running second to SC Divas Cartel Man in the first race for 2-year-olds of the season on April 5. He was then bumped from both sides when seventh in his trial to the Robert Adair Kindergarten Futurity.
"We had real bad luck in his trial for the Kindergarten," Flores said. "Now he put it all together for this race. We still need to work with him in the gate. We just need to take time and work with him and get him ready. He got a little bit tired. Hopefully, he can come back and contend."
Purchased by the Sweetings for $26,000 at the Los Alamitos Equine Sale, the Birrell Farms-bred BF Outfoosed was ridden by Jairo Rangel for trainer Paul Jones. The Utah gelding is a full brother to BF Fooserageous, who won the Grade 3 West Texas Derby plus three other stakes races. She also raced in the Charger Bar Handicap at Los Alamitos.
Balgo Racing Team's La Jaconde, the winner of the Grade 2 Robert Adair Kindergarten Futurity, led from gate to wire while scoring a 1 ¾ length win in the ninth Ed Burke Million trial. The Favorite Cartel filly was picking up her third win in four career starts, while covering the distance in the fifth fastest time of the night of :17.641.
"She had a good race," Gomez said. "Nobody was around her and Oscar didn't have to push her. He said he let her go easy. We have tough competition in the Ed Burke final. That is when it matters. When the finalists get together, we'll see who comes out on top."
Gomez also saddled the sixth fastest qualifier, Thats R Best Card, a gelding by Docs Best Card who has now won both of his career starts. Thats R Best Card won the opening trial by a ¾ lengths in a time of :17.645.
"This horse reminds me of his sire, Docs Best Card," said Gomez, who owns Docs Best Card. "He's talented and gives you his all. He leaned back when they opened the gate, but he came flying at the end."
Out of the Chicks A Blazin mare Thatsa Blazin Chick, Thats R Best Card is owned by Gomez, Javier Chavez and Juan H. Moya.
Papas Place LLC and Cindy Williams' Coronas Big Flash broke in leaving the gate before putting it all together to win by a half-length and in the seventh fastest time of the night. Armando Cervantes piloted the Corona Cartel gelding for trainer Juan Aleman. Coronas Big Flash dam is the AQHA champion Flame N Flash, who as a 3-year-old defeated aged mares to win the 2012 Mildred Vessels Memorial Handicap. Flame N Flash would then run second in the Grade 1 Champion of Champions while also winning the Grade 3 La Primera that year.
Reliance Ranches LLC's SC Divas Cartel Man and Paul Jones, Thompson Racing and Turner Farms' Jess Lyndes Reason finished in a dead heat for first in the sixth trial of the night. More importantly for the connections, the talented 2-year-olds covered the distance in :17.748, fast enough to earn them the 8th fastest qualifying time. Ridden by Peinado for trainer Mike Robbins, SC Divas Cartel Man won the meet's first race for 2-year-olds back on April 5. Sired by Corona Cartel, this was the gelding's first start since his debut.
"We tried this year to get these horses started early," said Robbins referring to his top 2-year-olds. "That gives you time if something goes wrong. If you have a little hitch here or there, you have time to fix it. It is worked out good so far. We gave him several works since his first start. He is a big lazy horse. He does not put much into his works. Fortunately, he saves when he is out here (for the races)."
Bred by Reliance Ranches, SC Divas Cartel Man is out of the AQHA champion mare Spit Curl Dia.
Ridden by Jairo Rangel, Jess Lyndes Reason is a half-sister to Jess Macho Corona, the runner-up in the All American Derby last year. Jess Macho Corona also ran second in the Grade 1 Golden State Million Futurity at Los Alamitos. Their mother, Jess Send Me, earned $361,595 in her racing career. Jess Lyndes Reason has won both of her career starts.
"She has always been one of my favorites," said Jones of the filly by Good Reason SA.
The final qualifying spot went to Jim Nebeker's Jess Paint Me, a $90,000 purchase at the Heritage Place Sale. Ridden by Eduardo Nicasio for trainer Chris O'Dell, the PYC Paint Your Wagon colt is a perfect two-for-two at Los Alamitos. His dam is Jess Sass Me, who is the dam of AQHA champion aged mare Sass Me Blue. Jess Paint Me was bred by Speed LLC.
For the complete list of qualifiers with times, sires, dams, owners, breeders, trainers and jockeys CLICK HERE.
* * * * * * * * * * * * * *
Courtesy of www.losalamitos.com.
i>