RACING THIS WEEK
FEATURES
SERVICES
Consignments for the 46th annual Heritage Place Winter Mixed Sale are due October 23.

© Amanda Glidden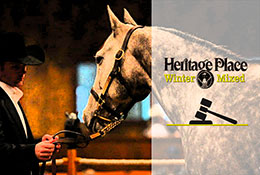 Consignments Close October 23 For 46th Annual Heritage Place Winter Mixed Sale
Open Letter to the Industry
OKLAHOMA CITY, OK–OCTOBER 4, 2024–Heritage Place is pleased to announce the 46th Annual Winter Mixed Sale is open and accepting consignments.
The sale is scheduled for January 18, 19 & 20, 2024.
Entry forms are available online at www.heritageplace.com. Please call the office at 405-682-4551 if you need forms mailed to you.
Sale festivities will begin with a pre-sale party beginning Wednesday evening, January 17th, at 5:00 pm followed by the announcement of the 2023 AQHA Racing Champions. This is always a great event to not only celebrate the success of our peers from the previous racing season but to also preview sale horses.
Nomination forms for the 2024 Heritage Place Futurity, Derby and Oaks for 3 year old fillies are also available online. Payments without penalty begin November 15th, continue through April with no time of entry payment due and Futurity horses are not required to be named until March 15th.
Keep in mind the Heritage Place races are open and all horses are eligible to nominate, they do NOT have to be purchased through one of our sales. This is the richest futurity in Oklahoma with an estimated purse over $1 Million Dollars.
We want to thank the industry for your business for the past 46years and we will continue with our commitment to serving your horse auction needs and allowing Heritage Place to remain the place "Where Champions are Sold."
Respectfully,
Spence Kidney