RACING THIS WEEK
FEATURES
SERVICES
Rose Beaukay is the the $320,000 sale topper of the two-day Los Alamitos Equine Sale that concluded on Sunday.

© William Zuazo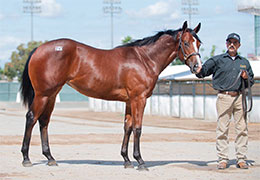 $320,000 Sale Topper Heads Sucessful Los Al Equine Sale, 13 Yearlings Break Six Figures
LOS ALAMITOS RACE COURSE, CYPRESS, CA–OCTOBER 1, 2023–The legacy of the sensational Favorite Cartel and Remember Me Rose cross continues as Hip 210 Rose Beaukay, a filly who is a full sibling to AQHA champion colt Cyber Attack and Grade 1 stakes winners Bomb Cyclone, Powerful Favorite, Runforyourlife, and Cyber Monday, was the $320,000 sale topper of the two-day Los Alamitos Equine Sale that concluded on Sunday.
Purchased by Reliance Ranches, Rose Beaukay was bred by Burns Ranch.
She headed a highly successful renewal of the Los Alamitos Equine Sale that had 154 yearlings sold for gross sales of $5,520,200 for a sale average of $35,845. This represents the second highest average figure ever for the Los Alamitos Equine Sale, only behind last year's record average of $38,122. The 2023 strong sale average included 13 yearlings selling for $100,000 or more and a total of 25 going for $50,000 or higher.
Now in its 19th edition, the Los Alamitos Equine Sale's three highest ever sale averages have come in the last three years.
"The sale numbers stacked up pretty well to the record numbers posted last year," said Dr. Steve Burns, whose Burns Ranch was the top consignor of the Los Alamitos Equine Sale. "We had good weather today, nice, and cool, and a great atmosphere."
The Burns Ranch consignment had nine out of the 12 high sellers during this weekend, including four of the top six during Sunday's session.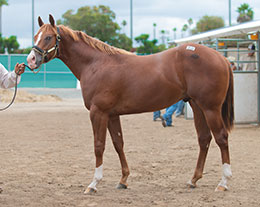 Felix Gonzalez paid $250,000 for Hip 80 Wire Fraud the high-seller on day 1 of the Los Alamitos Equine Sale.
© William Zuazo
"We had a good sale again today. We are pleased," said Burns, who is currently the nation's leading breeder in earnings.
Ed Allred, the all-time leading breeder in Quarter Horse racing, and Burns conduct the Los Alamitos Equine Sale, which is managed by the Pacific Coast Quarter Horse Racing Association.
"We've seen so many outstanding yearlings go through the Los Alamitos Equine over the last three years and it's been great to see buyers from all across North America respond so positively to these impressive racing prospects," said Dino Perez, the business manager of the Pacific Coast Quarter Horse Racing Association, which manages the Los Alamitos Equine Sale. "Once again, we are so thankful for our buyers and grateful for our great consignors that support the Los Alamitos Equine Sale. It's rewarding to see so many in our industry come away with a great sale experience."
As for Rose Beaukay, she represents the third straight year that a yearling by Favorite Cartel out of AQHA Dam of Distinction Remember Me Rose tops the sale.
"She's an impeccably bred filly," said Paul Jones, the all-time leading AQHA Quarter Horse trainer, who represented Reliance Ranches in the purchase of Rose Beaukay. "I'm excited to have the opportunity to train for Reliance Ranches. They are great people and big in our industry."
Felix A. Gonzalez purchased Wire Fraud for $250,000 during Saturday's session, making the Favorite Cartel colt the event's second highest seller. Bred by Burns Ranch, Wire Fraud is out of the broodmare Bartiromo, who previously produced stakes finalists Mornings With Maria and Market Analyst.
Reliance Ranches also purchased Hip 236 Snow Bound, a half-brother to six-time Grade 1 winner BH Lisas Boy, for $245,000 to make him the sale's third highest selling yearling. The colt by Favorite Cartel and out of Apollos Snowbound is also a half-brother to Sam Houston Futurity winner BH Inxs and AQHA Distance Challenge Championship winner Yin Your Eyes. Snow Bound was consigned by Burns Ranch, Agent.
Agros Horticultores acquired Hip 113 Reputable, a colt by Favorite Cartel out of Enjoy The Walk, for $192,000 on Saturday afternoon to make him the sale's fourth highest seller.
Among the other high selling yearlings on Sunday were Hip 230 Favorite Blue, a Favorite Cartel colt out of Golden State Million Futurity third place finisher Amore La Blue. Purchased for $160,000 by Bradley, Roark, and Newman from the Vista Equine Colorado LLC. consignment, Favorite Blue is a full brother to Grade 2 Dash For Cash Derby winner Favorite Blues Man. Favorite Blue's granddam is the 2007 AQHA World Champion Blues Girl Too.
Lance Bland, Leon Harrel, and Alan Isbell purchased Hip 202 Idtaketwoifiwasyou for $150,000 from Vista Equine Colorado LLC, agent for Veronica Gail Kawananakoa. The colt is by the sensational freshman stallion Flying Cowboy 123 and out of Pretty Lethal, the dam of stakes winners Pretty Sweet Jess and Easily Lethal. His granddam is Lethal Delight, the dam of All American Futurity winner JM Miracle and Lethal Lil, who was second in the Ruidoso Futurity and third in the Los Alamitos Two Million Futurity.
It was another great Los Alamitos Equine Sale for Favorite Cartel, as the outstanding California-based stallion sired 10 of the yearlings which sold for over $100,000 and 15 of the yearlings which sold for more than $50,000.
The overall numbers for the sale had 167 Hips sold for $5,630,100 for a strong sale average of $33,713 per head.
Burns Ranch finished as the leading consignor with 61 hips selling for $3,103,200 for an average $50,872. Allred was second with 42 hips selling for $702,000. Vista Equine Colorado LLC, agent for Veronica Gail Kawananakoa was the third leading consignor after selling 7 hips for $532,000.
Reliance Ranches, LLC. was the leading buyer after purchasing five hips for $742,000. Ed Allred was the second leading buyer after buying five hips for $471,000. Alejandro Castaneda was the third leading buyer after investing $279,100 on a sale high 14 hips.
Corona Cartel was the leading sire of yearlings (by average, two or more sold) with two head averaging $118,500. Favorite Cartel sold 25 yearlings for a $104,600 average and Flying Cowboy 123 had two yearling average $90,500.
For preliminary results of the two-day sale, including hip-by-hip prices, CLICK HERE.

Full results are available at LosAlamitosEquineSale.com For more info, please contact 714-820-2690.