RACING THIS WEEK
FEATURES
SERVICES
Consignment forms for the 2023 TQHA Yearling Sale are now available. The consignment deadline for paperwork to physically be in the TQHA office is May 1.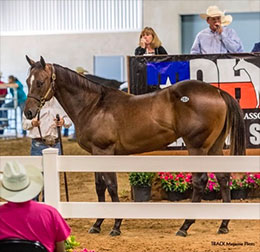 Consignment Forms Available for 2023 TQHA Yearling Sale
ELGIN, TX–FEBRUARY 28, 2023–Consignment forms are now available for the 2023 TQHA Yearling Sale.
For Accredited Texas Bred Yearlings (foals of 2022), this year's sale dates are July 28-29 and will be held again at the Exposition Hall at the Freeman Coliseum in San Antonio. Last year's average sale price was over $23,900.
Horsemen and women wanting to enter their yearling(s) into the 2023 sale you will need to fill out a consignment form and the seller's information section on the AQHA transfer report for each yearling consigned.
The deadline for submitting these forms to TQHA is May 1, 2023, and must be in the TQHA office no later than May 1 (not postmarked but physically in the TQHA office).
"Don't get left at the starting gate," TQHA Director of Racing Schott Sherwood said. "We anticipate a large sale again this year. Get these forms to us as soon as possible to avoid getting shut out."
Original foal certificates issued by AQHA should accompany the consignment and transfer forms.
CLICK HERE to download a 2023 TQHA Yearling Sale Consignment Form. For an AQHA Transfer Form CLICK HERE.
"If you have submitted your paperwork to the AQHA but do not have your foal certificates back yet it might be a good idea to call AQHA and see what the status is," Sherwood said.

"If you have not sent in your registration paperwork yet I suggest you do it as quickly as possible and pay the $100 rush fee so that you can get them back in time. We cannot run a horse through the sale ring without having their AQHA foal certificates on file," he added.
All yearlings consigned are Accredited Texas-bred yearlings and eligible for the 2024 $200,000-added TQHA Sale Futurity-RG1 (MUST PASS THROUGH SALE RING).
Sale catalogs are expected to drop in the mail the end of June for owners looking to pick out their next stakes winner.
"Thanks to all the horsemen and women for your participation in the Texas Quarter Horse Yearling Sale and for your support of Accredited Texas Bred Racing," Sherwood concluded.
For additional questions email Sherwood at ssherwood@tqha.com or call at 512-458-5202.