RACING THIS WEEK
FEATURES
SERVICES
TQHA has cataloged 357 accredited Texas Bred yearlings for its' 25th Annual TQHA Yearling Sale being held July 29th and 30th at the Freeman Expo-Hall in San Antonio, Texas.

© TQHA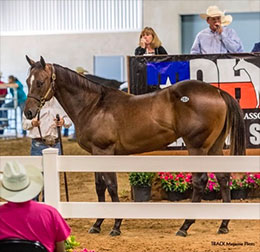 2022 TQHA Yearling Sale To Catalog 357 Horses
ELGIN, TX–MAY 25, 2022–The Texas Quarter Horse Association has announced a total of 357 Accredited Texas Bred yearlings have been cataloged for its' 25th Annual TQHA Yearling Sale that is being held July 29th and 30th at the Freeman Expo-Hall in San Antonio, Texas.
This is an increase of 106 horses from the highly successful and record setting 2021 sale that saw an average sale price of $23,684. All yearlings passing through the sale ring will be eligible for the 2023 $200,000 Added TQHA Sale Futurity.
This year's sale again offers sons and daughters of many of the top sires in the Quarter Horse industry from many of the leading Texas breeders.
"A lot of our consignors from previous years' that put five or six horses in the sale have increased to eight or ten. Consignors that put in ten or so in the past put in thirteen or more this year. There are also some new consigners as well as some that have returned to our sale again after missing it for a few years. We are very pleased with the numbers and quality of the horses we are seeing consigned in this years' sale," said TQHA Director of Racing Scott Sherwood.
Returning for 2022 will be the popular free consigners and buyers BBQ that will be held Thursday evening, July 28th beginning at 4 PM. Sale start times both days will be 10:30 AM.
Catalogs will be available the first week of July with the online catalog being available on TQHA.com website by June 15th. Online bidding will again be available. For information and to sign up for online bidding go to www.superiorclicktobid.com.
In other TQHA sale news it was announced that beginning in 2023 an additional stakes race for Three Year Olds that passed through the TQHA yearling sale will be held on "Summer Showdown Night" which is held annually on the Friday evening after the first day of the sale.
This yet to be named stakes race will be a $50,000 Added event for Three Year Olds that passed through the 2021 TQHA Yearling Sale and will be run at a distance of 400 yards. Preference will be given to the highest money earners. (there will be no trials).
More details on this race will be released later. The plan is to continue this race annually so yearlings passing through the 2022 sale will be eligible for the 2024 edition.
For more information on the 2022 TQHA Yearling Sale please contact the TQHA at 512-458-5202 or visit the association website at TQHA.com.