RACING THIS WEEK
FEATURES
SERVICES
Heritage Place announced today the 2022 Heritage Place Winter Mixed Sale has been extended to three days next year — January 13, 14 & 15, 2022.

© Plugged In Equine Marketing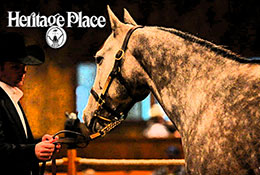 Heritage Place Winter Mixed Sale Consignments Closed
OKLAHOMA, CITY, OK—NOVEMBER 12, 2021—
Due to the great response received from consignors, Heritage Place Sale Company announced today it is extending the upcoming 44th Annual Winter Mixed Sale from two to three sale days!
The 44th Annual Heritage Place Winter Mixed Sale, will be held on January 13, 14 & 15, 2022, in Oklahoma City, Oklahoma.
AQHA will also announce the 2020 AQHA Racing Champions during an annual ceremony on Wednesday evening, January 12 at 6:00 pm in the Heritage Place auditorium.
Be sure to visit Heritage Place YouTube channel for sale ring videos of our top sellers from the Heritage Place 2021 Sales.
Visit HeritagePlace.com for Sale and Race Information as well as Forms and deadlines.
Text Keyword: Heritage to: 797979 and never miss an important sale deadline!