RACING THIS WEEK
FEATURES
SERVICES
The 44th annual Heritage Place Fall Mixed Sale festivities get underway Thursday with a pre-sale party in Oklahoma City.

© Plugged In Equine Marketing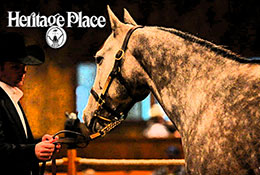 44th Annual Heritage Place Fall Mixed Sale Set Friday and Saturday, Pre Sale Event Thursday
OKLAHOMA CITY, OK—NOVEMBER 1, 2021—
Heritage Place Sale Company will kick off festivities for their 44th Annual Heritage Fall Mixed Sale with the annual pre-sale party on Thursday (Nov. 4th) in Oklahoma City.
The sale company will host the pre-sale event from 5:00 to 7:00 p.m. (CDT) with entertainment and drinks. Everyone is invited.
Session 1, Hips 1 thru 191 consisting of Quarter Horse and Paint yearlings, will get under way at 10 a.m. Friday (Nov. 5th). Session 2 on Friday, Hips 192 thru 223 will be Thoroughbred yearlings, and session 3 on Friday, Hips 224 thru 317 will be a mixed session.
Session 4, the final session offering Hips 318 thru 634, will start promptly 10 a.m. Saturday (Nov. 6th), consisting of mixed horses.
Heritage Place will offer online bidding, as well to the horsemen and women who can't attend can view the sale live through an online webcast. For more information and a links to the Catalog Preview, Online Bidding and Sale Webcast CLICK HERE.
A complete online version of the 2021 fall mixed catalog, including horse, consignor, sire and dam indexes, is available by CLICKING HERE.
A downloadable iPad version is currently available on the RGP Catalog App. The RGP Catalog App is available for both Apple and Android phones and tablets. A Catalog App tutorial can be viewed by CLICKING HERE.
The free RGP Catalog App can be downloaded from www.robinglenn.com or by searching for "RGP Catalog App" in the Apple App Store.
Persons who do not plan to bid but want to watch the sale can view the 2021 Fall Mixed Sale Webcast by CLICKING HERE Friday and Saturday.
For additional sale information call the Heritage Place Sale Company at 405.682.4551 or visit www.heritageplace.com.