RACING THIS WEEK
FEATURES
SERVICES
The 2021 Return To The Remuda Sale will be held Friday and Saturday at the 6666 Ranch in Guthrie, Texas.

© S Sylvester Photography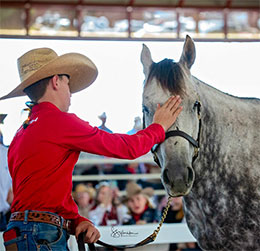 Return To The Remuda Kicks Off Friday at 6666 Ranch
GUTHRIE, TX—SEPTEMBER 28, 2021—
The 2021 Return To The Remuda Sale will be held Friday and Saturday (Oct. 1-2) at the 6666 Ranch in Guthrie, Texas. A demonstration of sale horses will be held on Friday (Oct. 1) and the sale will be conducted on Saturday (Oct. 2).
The sale will include registered American Quarter Horses of various ages from these historic ranches, five of which are AQHA Best of the Remuda Award winners: Four Sixes Ranch, Beggs Cattle Company, Pitchfork Cattle Company, and Tongue River Ranch, King Ranch, and Wagonhound Land & Livestock.
The event features some of the industry's finest bloodlines with success in cutting, reining, reined cow horse, roping, barrel racing, and ranch horse competitions offering approximately 170 head of quality horses that range in age and includes weanlings, yearlings, 2-year-olds, ranch geldings, mares and stallion prospects.
Absentee buyer prior approval and registration deadline is Wednesday (Sept. 29), by 5:00 p.m. CDT.
CLICK HERE to download the online version of the sale catalog and CLICK HERE to view a flip book of the 2021 sale.
The complete catalog, including horse, consignor, sire and dam indexes, is also available through the RGP Catalog App for iPad, iPhone, Android phones and Android tablets.
To download the RGP Catalog App visit the Apple App Store or Google Play. Users need to search for "RGP Catalog App" on iTunes and Google Play, because the App hasn't been updated to QData.
An RGP Catalog App online teaching tutorial can be found here.
For information visit the 6666 Ranch website or for complete "Return To The Remuda" sale information CLICK HERE.