RACING THIS WEEK
FEATURES
SERVICES
The opening session of the 2021 Ruidoso Select Yearling Sale will get underway at 3 p.m. (MDT) today (Sept. 3).

© Ruidoso Downs Race Track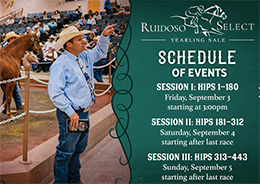 Ruidoso Select Yearling Sale Kicks Off Friday
RUIDOSO DOWNS, NM—SEPTEMBER 3, 2021—
The 2021 Ruidoso Select Yearling Sale will open its three-day auction this afternoon (Friday, September 3) at 3 p.m. (MDT). The racetrack does not have live racing today, so the sale will begin earlier than normal.
The three-day event, scheduled September 3 thru September 5 in the Ruidoso Horse Sale's Pavilion at Ruidoso Downs, will feature 443 head of the industry's finest Quarter Horse yearlings sold in three sessions.
The industry's leading yearling sale grossed more than $14.4 million and averaged over $45,700 per head at its 2020 sale.
Today's (Friday) opening session will feature Hips 1 thru 180.
Saturday's session 2 will get underway following the last race at Ruidoso Downs and will offer Hips 181 thru 312. Sunday's closing session will also begin following the last race at Ruidoso Downs with Hips 3113 thru 443.
CLICK HERE to download an PDF copy of the 2021 Ruidoso Select Yearling Sale. Catalog hardcopies have been mailed to potential buyers and are available at the sales pavilion.
The complete yearling catalog, including horse, consignor, sire and dam indexes, is also available through the RGP Catalog App for iPad, iPhone, Android phones and Android tablets.
To download the RGP Catalog App visit the Apple App Store or Google Play. Users need to search for "RGP Catalog App" on iTunes and Google Play, because the App hasn't been updated to QData.
An RGP Catalog App online teaching tutorial can be found here.
The Ruidoso Jockey Club will be catering the sale from the "Horse Sale Kitchen" in 2021, offering breakfast, lunch and dinner. The kitchen opens daily at 6:30 a.m. They will also offer breakfast and lunch on Wednesday and Thursday (Sept 1-2). Take out service will be available as well as bar service will be available in the "sales pavilion" during the sale.
For additional sale information call the Ruidoso Horse Sale Company at 575.378.4474.
Preliminary sale results will be available following each session in the Auction Leaders section of Stallionesearch.com.