RACING THIS WEEK
FEATURES
SERVICES
Heath Taylor paid $52,000 for Jess Chasin Chicks from the Copper Springs Ranch, LLC consignment.

© StalioneSearch / Greg Thompson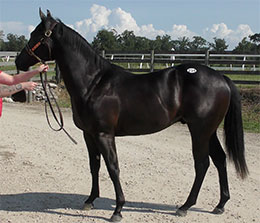 $52,000 Jess Louisiana Blue Colt Tops LQHBA Opener, Median Up 15% Over Day 1
OPELOUSAS, LA—AUGUST 7, 2020—
Save for the social distancing protocols and the request for patrons to wear a mask while inside the sales pavilion, the first session of the 44th LQHBA Yearlings Sale had the look and feel of the association's annual yearling sale held the first week of August each year.
The August 7th opener was high-lighted by $52,000 paid by trainer Heath Taylor for Hip 234 Jess Chasin Chicks, a Jess Louisiana Blue colt.
Sale officials and consignors joined forces, after a decision was made a month ago to move the sale from his normal location to the Equine Sales Company facility in Opelousas due to the COVID-19 pandemic, working together closely to pull off the event.
From the 243 horses cataloged for the first session, LQHBA reported 186 head changed hands for $2,263,500 gross and a $12,169 average price, compared to $13,998 when last year's opening session enjoyed a six-figure horse on day 1.
The median average however rose an impressive 15% on day 1 this year to $9,700 compared to $8,200 in 2019. The 57 that went unsold represented an RNA rate of 23%.
While the association is not making comparisons with 2019 due to the novel coronavirus and upheaval in the location move, a robust crowd was in attendance for the opening session.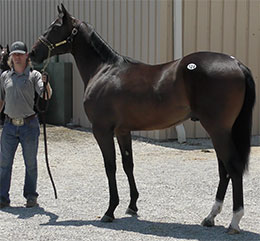 Hip 124 Jesscheeerforblue sold for $50,000 in the LQHBA Yearling opening session on Friday.
© StallioneSearch / Greg Thompson
"We want to thank all of our consignors who pitched in to make this happen," LQHBA Executive Director Bruce Salard said Friday. He also said the Louisiana Downs and Delta Downs had both already requested their full 46 day meets for the 2021 racing season and there are indications that Louisiana racing will return to its full 153 day schedule next year.
Taylor purchased the high-seller Jess Chasin Chicks from the Copper Springs Ranch, LLC consignment. The Jess Louisiana Blue colt is out Follies Corona Chick, a sister to Grade 1 winner and leading sire Pyc Paint Your Wagon and Grade-1 placed and multiple stakes sire Ivory James. Hip 234 is the mare's second foal and she has had none to race including a 3-year-old of 2020.
Two horses tied for the second-high seller spot at $50,000 each on day 1.
A "Partnership" purchased Hip 124 Jesscheerforblue for $50,000, also a colt by multiple stakes sire Jess Louisiana Blue. Jumonville Farms consigned the first Quarter Horse foal out of the unraced thoroughbred mare Cheerforlute, by Midnight Lute. The second dam is the champion 2-year-old and 3-year-old filly Silverbulletday ($3,093,207), a five-time Grade 1 winner including the Breeders' Cup Juvenile Fillies and Kentucky Oaks.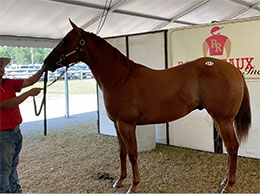 Hip 221 Quick And Dirty tied for the second high-seller on Friday at $50,000.
© StallioneSearch / Greg Thompson
Zitro Racing paid $50,000 for Hip 221 Quick And Dirty, a
Jet Black Patriot
colt.
Robicheaux Ranch Inc.
, Agent consigned the sorrel colt from the first crop out of the
Jess Louisiana Blue
mare First Lady B, a half-sister to Grade 1 winner and multiple graded stakes producer Terrific Energy ($173,393). This is the family of Charger Bar winner Thermonuclear Energy ($420,132 to 2020) as well as champion Tiny First Effort ($445,393) and Grade 1 winner Tiny First Down ($317,881), etc.
Heath Taylor led all buyers in the first session with four purchases totaling $102,500. Rayne Knight had six head for $82,700 and champion trainer Blane Wood paid $67,000 for four purchases.
Jumonville Farms led all consignors and agents on day 1 with 15 head grossing $251,900. Robicheaux Ranch Inc., Agent sold 14 head for $248,200 and Grant Farms, LLC had 13 head for $163,300.
Sizzlin Cartel was the leading sire of yearlings (by average, two or more sold) on day 1 with two head that averaged $21,600. Jet Black Patriot had 11 yearlings average $20,682 and Feature Mr Bojangles had three for $18,333.
For preliminary results from day 1, including hip-by-hip prices CLICK HERE.
* * * * * * * * *
Saturday's final session, featuring Hips 274 thru 545, will also begin promptly at 10:00 a.m. (CDT).
Potential buyers who have pre-registered can take advantage of "online bidding" on Saturday by going to the association's website lqhba.com and clicking on the "Online Sale" link at the top of the page.
To access an online version of the catalog (horses only) CLICK HERE.
Preliminary results for both sessions will be available in the Auction Leaders Section of StallioneSearch.com as soon they become available Saturday.
* * * * * * * * * *
For additional information contact the LQHBA at the onsite phone # 318-487-9506 or go to their website at www.lqhba.com.
Complete sale results will be available following each session in the Auction Leaders section of Stallionesearch.com.