RACING THIS WEEK
FEATURES
SERVICES
Consignors are urged to get the consignment forms in for the 2020 TQHA Yearling Sale.

© Courtesy TQHA Sale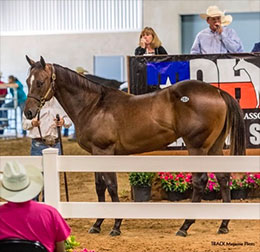 TQHA Yearling Sale Consignments
ELGIN, TX—MARCH 26, 2020—
Consignments are due May 1st for the annual TQHA Yearling Sale scheduled for July 24 & 25 at the Freeman Exposition Hall in San Antonio, Texas.
TQHA is closely monitoring the situation with Covid-19. If a mandatory cancellation of the TQHA Yearling Sale is required by Bexar County, all consignment fees will be fully refunded.
"TQHA kindly asks that you do not delay sending in your consignment form and complete paperwork. Late and incomplete paperwork will incur an additional fee," the Association said an email blast today.
CLICK HERE to download 2020 sale consignment forms.
For additional information call (512) 458-5202 or visit the association's website at tqha.com/sale.