RACING THIS WEEK
FEATURES
SERVICES
The 2018 Heritage Place September Yearling Sale catalog is now available online and on the RGP Catalog App.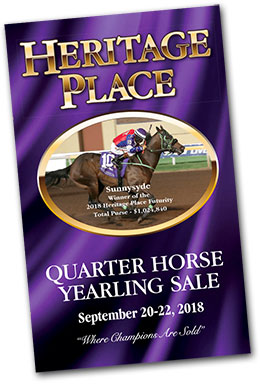 Heritage Place September Yearling Catalog Available On Line
OKLAHOMA CITY, OK—AUGUST 10, 2018—
Robin Glenn Pedigrees announced today that an online version of the upcoming Annual Heritage Place September Yearling Sale catalog is now available.
The three-day event, scheduled September 20-22, 2018 at the Heritage Place Sale's Pavilion in Oklahoma City, will feature 783 head of the industry's finest Quarter Horse yearlings.
The sale will offer three sessions of yearlings beginning Thursday, September 20 with Hips 1 through 261. The second session of hips 262 thru 522 will sale Friday, September 21 and the final session, hips 523 thru 783, will be offered Saturday, September 22. The sale will start promptly at 10 a.m.(CDT) each day.
The annual pre-sale party will be hosted by Heritage Place from 5 to 7 p.m. (CDT) on Wednesday, September 19.
A complete online version of the 2018 yearling catalog, including horse, consignor, sire and dam indexes, is available by CLICKING HERE.
Printed copies of catalog will be mailed shortly as well as a downloadable iPad version is currently available on the RGP Catalog App.
The RGP Catalog App is available for both Apple and Android phones and tablets. A Catalog App tutorial can be viewed by CLICKING HERE.
The free RGP Catalog App can be downloaded from www.robinglenn.com or by searching for "RGP Catalog App" in the Apple App Store.
For additional sale information call the Heritage Place Sale Company at 405.682.4551 or visit www.heritageplace.com.