RACING THIS WEEK
FEATURES
SERVICES
Salt Creek Lad, a 7-year-old gelding consigned by the Four Sixes Ranch, was the high-seller at$60,000.

© 6666 Ranch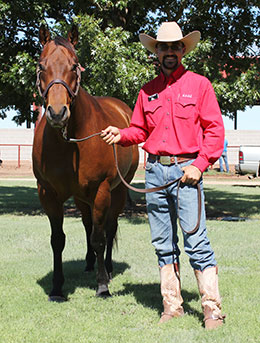 Return to the Remuda Enjoys Record Sales
GUTHRIE, TEXAS, OCTOBER 17, 2017—
The 2017 Return to the Remuda sale, known for its quality ranch horses and cowboy reunion atmosphere, was hosted at the Four Sixes Ranch in Guthrie, Texas on October 7 and saw the highest gross and sale average in the history of the sale.
"The Return to the Remuda sale is always a highlight of the fall at the ranch. " said the Four Sixes' Horse Division Manager Dr. Glenn Blodgett. "Each year, participating ranches choose some of their top horses to offer to the public. This year's record sale gross reflects decades of breeding history and the dedication these ranches have put into making their horses true working partners, desired both on the ranch and in the arena."
The annual event saw record sales of more than $1.4 million with an average of $8,450.
This year's high seller was Salt Creek Lad, the 7-year-old gelding, consigned by the Four Sixes Ranch came from the string of Dusty Burson, and fetched­ $60,000. Circle Bar Ranch had two aged geldings bring $50,000 each, Circle Bar Sonofagun and Anchorspocopepsmoke.
Click Here for complete sale results.
The 2018 Return to the Remuda sale will be held on October 6 in Guthrie, Texas.