RACING THIS WEEK
Additional Challenges

Current Nominees and Sustaining Payments
FEATURES
SERVICES
One ColdHearted Diva under jockey Giovani Vazquez Gomez, winning the $48,994 $28,424 Q-Racing Video Distaff Regional Challenge Thursday at Horseshoe Indianapolis.

© Coady Phtography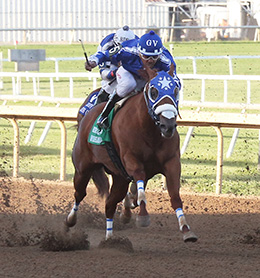 One Coldhearted Diva Wins Q-Racing Video Distaff Regional Challenge at Horseshoe Indianapolis
SHELBYVILLE, IN–SEPTEMBER 22, 2022– One Coldhearted Diva picked the right moment to have a good day. The four-year-old Indiana bred mare scored her first win of the year in the $28,424 Q-Racing Video Distaff Regional Challenge Thursday, Sept. 22 at Horseshoe Indianapolis.
She now advances to the Grade 1 $100,000 final slated for Challenge Championship Night Saturday, Oct. 22 at Horseshoe Indianapolis. It's the first time the event has been hosted in Indiana.
Guided by Giovani Vazquez Gomez, One Coldhearted Diva came out of the gate focused on the lead in the 400-yard dash. The six other entrants were led by a short margin by Dugan Chapel Baby and James Flores along the inside, but One Coldhearted Diva was in a battle the entire distance.
As the wire neared, three horses were across the track, and none were giving in. Jess Gimme a Kiss and Isidro Banuelos was in between Dugan Chapel Baby and One Coldhearted Diva. In the end, One Coldhearted Diva got the win by a neck in the three-horse photo that placed Jess Gimme a Kiss over Dugan Chapel Baby for second. The final time was :19.983.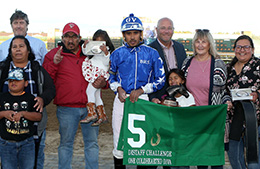 The winning connections of One Coldhearted Diva accept the Q-Racing Indiana Distaff stakes trophy at Horseshoe Indianapolis.
© Coady Photography
"Her name says it all," said Trainer Jessi Vazquez about One Coldhearted Diva. "You never know what horse is going to show up. Sometimes she breaks well and then doesn't finish well. Sometimes she doesn't break and then she finishes well. You just never know what to expect, but the right horse showed up today."
One Coldhearted Diva paid $15.80 for the win. The One Fabulous Eagle four-year-old mare earned her third career win and her first of 2022. She is now nearing the $100,000 earnings mark for owner Dianne Bennett of Bennett Racing Stables, who also bred the sorrel mare. The filly is out of Whata Chilled Cat, by Chilled Corona.
"This win is very special for us," said Jessi Vazquez. "We have trained all the offspring of her mama (Whata Chilled Cat) and they have all been great competitors. Diane (Bennett) is also so special to us, and we are so happy for her. She has been with us from the beginning and has been so supportive all along. This is really great."
Dianne Bennett is the longtime executive director of the Quarter Horse Racing Association of Indiana. She has spent endless hours working to promote and further the sport of Quarter Horse racing in the state. Her farm is just minutes from the racetrack where she houses several broodmares that have produced numerous racehorses for her over the past decade.
She always nicknames her horses after characters from her favorite sitcoms, with "Alice" getting her name from the popular 1980s television show starring Linda Lavin.
"Alice (One Coldhearted Diva) looked good today," said Bennett. "She was very peppy before the race. She wintered at my farm this past year and she just got to be a horse for a while. When we first took her home, she would run and run and was just like she is at the track, but after she was there for a while, she settled down and relaxed."
The win was monumental for Jessi Vazquez. The trip to the winner's circle, her 17th of the year, added her name to the record books at Horseshoe Indianapolis and put her into a tie for second place with Tim Eggleston behind 2022 Leading Trainer Randy Smith.
Jessi now holds the record for most wins in one season by a female Quarter Horse trainer (17) and most money earned by a female Quarter Horse trainer in one season ($481,204). She and her husband, Giovanni, are having a banner year with multiple stakes wins already in 2022.
One Coldhearted Diva advances to the Grade 1 $100,000 Q-Racing Video Distaff Challenge set for Saturday, Oct. 22 at Horseshoe Indianapolis. The event will feature five Graded Stakes with purses nearing the $1 million mark.
Other regional qualifiers this year for the Q-Racing Video Distaff Challenge, with the track they qualified at, include Lynnder 16 (Canterbury Park), Jet Wings One (Los Alamitos), Valiant Miss Priss (Prairie Meadows), Valiant Stars (Ruidoso Downs) and Republic Anne (Arizona Downs). There are three additional regional qualifiers for the Q-Racing Video Distaff left with Pocatello Downs hosting one Saturday, Sept. 24, Lone Star Park hosting a qualifier Saturday, Oct. 1 and Will Rogers Downs hosting the final one Sunday, Oct. 2.
* * * * * * * * * * * * * * *
The 20th season of live Thoroughbred and Quarter Horse racing extends through Wednesday, Nov. 23. Live racing is conducted at 2:30 p.m. Monday through Wednesday with Thursday post times set for 2:10 p.m. A total of 12 Saturdays will feature live racing in 2022 highlighted by the 28th running of the Grade 3 $300,000 Indiana Derby and the 27th running of the Grade 3 $200,000 Indiana Oaks set for Saturday, July 9. For more information on live racing at Horseshoe Indianapolis, visit www.caesars.com/horseshoe-indianapolis.
About Horseshoe Indianapolis
Horseshoe Indianapolis, owned and operated by Caesars Entertainment, Inc. (NASDAQ: CZR), holds multiple awards for customer service, entertainment, gaming, racing, dining, and diversity. Located just minutes from Indianapolis in Shelbyville, Ind., this one-of-a-kind property has wall to wall excitement on the 105,940 square foot gaming floor, featuring more than 1,600 slots and 72 table games along with a state-of-the-art World Series of Poker Room containing 20 tables. Please visit www.caesars.com/horseshoe-indianapolis for more information and find Horseshoe Indianapolis on Facebook, Twitter, and Instagram.