RACING THIS WEEK
FEATURES
SERVICES
Gentry Farms Grade 1 winner Kiss Thru Fire has been the top aged mare in California this year.

© Scot Martinez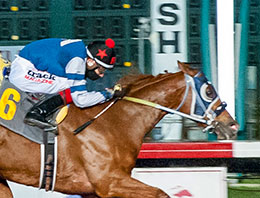 Showdown Between Top Mares In Las Damas Handicap
LOS ALAMITOS, CA—NOVEMBER 19, 2021—
Kiss Thru Fire and Cat Daddys Lil Girl, who finished 1-2, respectively, in the Grade 1 $100,000 Charger Bar Handicap in January will meet again when they headline a strong group of fillies and mares in the Grade 3, $50,000 Las Damas Handicap on Saturday night.
Racing for Gentry Farms and trainer Juan Aleman, Kiss Thru Fire has been the top aged mare in California this year. In addition to her victory in the Charger Bar, Kiss Thru Fire has also won the Denim N Diamonds Handicap, Matron Stakes and the Sound Dash Handicap. She also finished second in the Grade 1 Mildred Vessels Memorial Handicap.
"She's special to me because I also trained her mother, Fredaville," Aleman said. "It's been great to watch Kiss Thru Fire perform at a high-level just like her mother."
Kiss Thru Fire also spent time at Remington Park where she faced Cat Daddys Lil Girl twice.
The Champion of Champion bound Cat Daddys Lil Girl had a dominant campaign at Oklahoma-track, winning the Grade 1 Junos Request and also the Easy Date, finishing ahead of Kiss Thru Fire in both of those races.
The field will also feature Lynnder 16, a six-time stakes winner since July of 2020, and Prairie Meadows stakes winner Astranomical.
* * * * * * * * * * * * * *
For more info, please contact larace@losalamitos.com. Follow us on Twitter or Instagram at @losalracing or visit us online at www.losalamitos.com.