RACING THIS WEEK
FEATURES
SERVICES
Speed Dynasty defeats Tres Coronas and Cm Blue By You in the $43,384 Bank of America California Championship Challenge Saturday.

© Amber Mendez
Speed Dynasty Has His Ticket To Horseshoe Indianapolis After California Regional Win
LOS ALAMITOS, CA—AUGUST 6, 2022—In purchasing the Utah-bred Speed Dynasty at the 2021 Heritage Place Fall Mixed Sale, Arden Sue Floyd and Jeremy Trujillo of Taos River Ranch LLC found themselves a top contender to win the Grade 1 Bank of America Challenge Championship on October 22.
The partnership was not really looking for a horse with racing experience at Heritage Place, but they could not pass up on the opportunity to purchase the handsome horse by three-time world champion sire FDD Dynasty.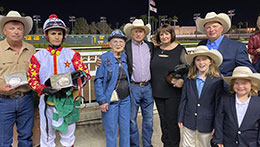 Arden Sue Floyd (center) with Johnny Trujillo and Jeremy Trujillo plus trainer Monty Arrossa and jockey Armando Cervantes accept the Bank of America California Championship Challenge stakes trophy.
© Orlando Gutierrez
Already a 3-year-old when he was consigned to the Fall Mixed Sale, Speed Dynasty was not only a looker, but he was also an accomplished performer with four wins to his name, including the 2020 La Fiesta Futurity at The Downs at Albuquerque.
"We went to the sale in Oklahoma at Heritage Place," said Trujillo's father, John Trujillo. "We weren't looking for anything but (Arden Sue Floyd) said 'John, look at this horse right here. Why can't we look at this horse?' I didn't think we were looking for an older horse. She took me over there and I saw that it was a nice horse. She said, 'I want him.' That's how it happened."
Taos River Ranch purchased the Speed LLC-bred runner for $170,000.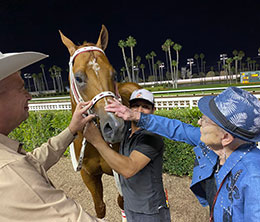 Arden Sue Floyd of Taos River Ranch LLC and trainer Monty Arrossa with Speed Dynasty in the Los Alamitos winner's circle. © Orlando Gutierrez
In only his second start for the new owners, Speed Dynasty rewarded them with a victory in the $43,384 Bank of America California Regional Challenge on Saturday night at Los Alamitos. The win earned him a ticket to the $350,000 Bank of America Challenge Championships to be held at Horseshoe Indianapolis in October.
"He's the best horse we've paid this much for," John Trujillo added. "He can run the 440."
Ridden by Armando Cervantes for trainer Monty Arrossa, Speed Dynasty won the California Regional by ¾ lengths over Juan Medina's Tres Coronas.
Speed Dynasty broke out at the start of this 440-yard race, but he raced on a straight path from there, took the lead at the midway point and finished under confident handling. He covered the quarter mile distance in :21.914. Earning $26,030 for his fifth career win in 13 starts, Speed Dynasty took his lifetime bankroll to $209,617.
With a major stakes race now part of his racing future, his connections will start planning the best to approach his trip to Indianapolis.
"We're going to see how he comes back after this," Arrossa said. "We'll work from the Challenge Championship backwards. We'll prep him for Indiana and work backwards from there."
Ridden by Jesus Rios Ayala and also saddled by Arrossa, Tres Coronas earned $11,280 for his second-place finish. Tres Coronas was making his first start at Los Alamitos.
Randy Dickerson's CM Blue By You earned $6,074 for running third.
The other two entrants in this race, My Game Plan and E Gmail, were both scratched from this race on Saturday afternoon.
* * * * * * * * * * * * * *
For more info, please contact larace@losalamitos.com. Follow us on Twitter or Instagram at @losalracing or visit us online at losalamitos.com.