RACING THIS WEEK
FEATURES
SERVICES
Under jockey Todd Kabel, Jesswatchme races to a 3-3/4 length win in the John Deere Bonus Challenge at Fort Erie Race Track.

Michael Burns Photography Ltd.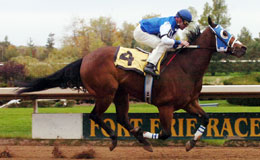 Jesswatchme Impressive in John Deere Bonus Challenge win at Fort Erie on Saturday
FORT ERIE, ONT—OCTOBER 13, 2012—
The world's fastest equine athletes put on a show of strength and speed at Fort Erie Race Track on Saturday, October 13th. With 10 races on the card including three added money stakes events, there was plenty of activity for Quarter Horse racing fans to enjoy.
On the undercard, a field of five competed for a purse of $40,000 in the John Deere Bonus Challenge going 870 yards. This distance is a true test of stamina for any Quarter Horse. Racing around "the hook" is not common for this bred of racehorse.
Jesswatchme, a four year old gelding by Feature Mr Jess owned by Full Circle Racing, sat in a tracking position and overtook the field in the final furlong finishing in 46.94 seconds.
"I learned to ride on Quarter Horses about 30 years ago and rode a lot of 870 yard races, so I was excited to ride in this race at Fort Erie." said Toronto-based jockey. "Greg did a tremendous job with this horse and it was a privilege to ride him."
"The people that bred Jesswatchme told me that the he should do well running around the hook and with Kabel aboard we knew he would be able to save some horse for the final strides," said winning trainer Greg Watson.
Matt Fales bred Jesswatachme in Arizona from the Takin On The Cash mare Watchin The Rain. The $20,800 winner's purse pushed his career earnings total to $66,315 with a 5-4-1 record in 24 career start.
Jesswatchme returned $3.40 to win, Im a Grand Believer finished second with First Down Planetary finishing third.
Live Quarter Horse racing at the Border Oval will return on Wednesday, October 17th. This will be the final Quarter Horse race date of 2012. Post time is set for 1:15pm.