RACING THIS WEEK
FEATURES
SERVICES
Call Me A Blazn Chick (inside) wins the Zia Futurity at Ruidoso Downs Sunday.

Ruidoso Downs Photo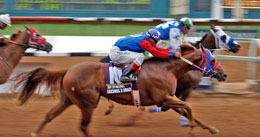 Call Me A Blazn Chic Wins Zia Futurity, Richest Race on Zia Festival Program
RUIDOSO DOWNS, NM—JULY 31, 2011—
Call Me A Blazn Chic scored her first career victory when she won the Grade 1, $348,080 Zia Futurity, the richest race on the Zia Festival program at Ruidoso Downs on Sunday afternoon.
The Zia Festival offered $1.1-million on the stakes-filled 10-race program dedicated to New Mexico-bred racing.
Owned by J and M Racing and Farm, Call Me A Blazn Chic raced the 400 yards in :19.59 under Alonzo Rivera to win her maiden in her fifth career start in the Zia Futurity for two-year-old quarter horses.
Call Me A Blazin Chic held off Erasmus B Dragon, who was then disqualified from second and placed fifth for interference. That moved Caught On Tape to the runner-up position from third place and Fly Olivia Fly was awarded third place after finishing fourth.
The Roberto Sanchez-trained Chicks A Blazin filly came into the Zia Futurity with a second and a pair of third-place runs from four starts. She was also seventh in the Mountain Top Futurity.
Call Me A Blazn Chic was purchased for $15,000 at the Ruidoso New Mexico-bred Sale last summer and earned $184,334 in the Zia Futurity.
Caught On Tape is a Jesse James Jr gelding owned by Gary Harstack and trained by Jackie Riddle. Roy Baldillez was aboard to earn $61,445.
Shawn and Abelardo Vallecillo race Fly Olivia Fly, a filly by Genuine Strawfly. Juan Gonzalez trains with Gaspar Garcia riding. She picked up $31,863.
Completing the field were Karolina, Erasmus B Dragon, Cheetah Woods and Sparklin Royal. Charlie Waffles Jr, First Blazin Love and First Quick Corona were scratched.
Zia Derby
In the Grade 2, $121,219 Zia Derby for quarter horses, 12-1 longshot New Mexico Streaker surged at the midway point of the 400-yard test to get a convincing victory under jockey Oscar Rincon.
Under jockey Oscar Rincon, New Mexico Streaker is an easy winner in the Zia Derby(RG2) at Ruidoso Downs.
Ruidoso Downs Photo
The Rancho Dos Los Potrillos-owned New Mexico Streaker raced the 400 yards in :19.453. He won by one length over Talleys First Shake while EBW Getusum finished third, a neck behind Talleys First Shake.
The Ralph Muniz-trained Brookstone Bay geldilng scored his first win in more than 13 months when he won his Mountain Top Futurity trial at Ruidoso Downs. However, he has been consistent with nine top-three finishes from 11 outs.
Talleys First Shake, a First To Shake Six gelding, is a homebred for Eusebio Sanchez. E. Canena, Jr., handles training duties with Noe Garcia up. He earned $19,395.
Ernie and Brenda Wood and Derrol Hubbard's Ebw Getsum earned $9,697 for third. G. Blane Wood trains with Ricky Ramirez riding.
Completing the field were Pakea Bay, DH-Viva La Moon and Wilmon, Hbit Rabbie, Lionidas, Spice Girl and Cozy Guymon.
Zia Handicap
In the Grade 2, $50,000 Zia Handicap for quarter horses, trainer Carl Draper's horses took the top-two sots with 2-1 favorite Jenuine Joy getting the win over stable mate Genuine American.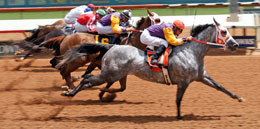 Jenuine Joy defeating Genuine American in the Zia Handicap(RG2) on Sunday at Ruidoso Downs.
Ruidoso Downs Photo
Lethal Delight finished third in the full field of older quarter horses.
Fredda Draper's Jenuine Joy wore down Genuine American in the final 100 yards to get her eighth win from 11 starts. She raced the 400 yards in :19.302 to win by one-half length.
The Genuine Strawfly daughter won two stakes at Sunland Park last winter and came off a win in the Tommy "Duke" Smith Handicap at SunRay Park.
Zia 870 Championship
In the $50,000 Zia 870 Championship, trainer Martin Orona swept the top-two spots with BRT Opulence, the 17-10 favorite, and Bullets Brother.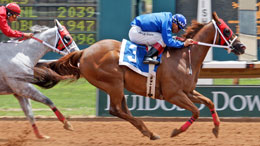 Brt Opulence, under jockey Esgar Ramirez, defeats Bullets Brother in the Zia 870 Championship at Ruidoso Downs.
Ruidoso Downs Photo
Bullets Brother set the pace from the inside post position and BRT Opulence was lapped on his side until he made his winning bid in the final 200 yards. He won by one length with a :45.026 time for the 870 yards.
Bonndaddy's was three lengths behind Bullets Brother for third.
Rogelio Carrasco Sr.'s BRT Opulence earned his strong favoritism after winning the New Mexico Horseman's 870 Handicap in his previous start.
Land Of Enchantment
The $50,000 Land Of Enchantment, the final race on the card, at seven-and-one-half furlongs was one of the most anticipated races with Fullofenergy coming off an 11-month layoff in search of an unprecedented fifth-straight victory in the race. It was not the eight-year-old gelding's day as he raced in contention until the final turn and then not pushed when he faded out of contention.
Frank Sumpter's Lota Talent, a 17-1 outsider, followed pacesetting Lesters Secret and then gained the lead at the top of the stretch. The Casey Lambert-ridden gelding then held off Our Choice to win by three quarters of a length. Lesters Secret held on for third place.
Trained by Joel Marr, who also trains Fullofenergy, Lota Talent prepared for the Land Of Enchantment with a win over five-and-half furlongs at Ruidoso Downs on June 6.
Rio Grande Senorita Futurity
In the $156,290 Rio Grande Senorita Futurity for two-year-old thoroughbred fillies, Our Flying Angel backed up her stunning trial win with a professional two-and-one-quarter length score under Jimmy Ray Coates.
In her Senorita trial, which was her career debut, Our Flying Angel was simply faster than her rivals and she drew out to the more than 11-length victory. In the Senorita, she handled tougher completion by showing speed from the gate and then handled pressure by Sandia Sonata. Our Fly Angel, the 1-2 favorite, showed her class inside the eighth pole when she drew out for the win in 1:05.55 for the five and one half furlongs.
Our Flying Angel is owned by the partnership of Pierre and Leslie Amestoy with Mike Abraham and is trained by Ross Amestoy.
Sandia Sonata saved second place by one-and-one-half lengths over Roll Bloomers Roll.
Rio Grande Senor Futurity
In the $149,250 Rio Grande Senor Futurity for two-year-old thoroughbred males, trainer Todd Fincher scored his third win of the afternoon when Desert Road rolled by favored That's Who in the stretch.
Under Ricardo Jaime, Desert Road raced to the expanding three-and-one-quarter-length win in 1:05.47 for the five-and-one half furlongs.
That's Who, the 3-2 favorite, held second while Band Of Glory was third.
Owned by Dale Taylor, Carey Taylor and Jon Hogg, Desert Road won his maiden at first asking and then finished just a neck behind Boy Ego in his Senor Futurity trial.
Road Runner Handicap
In the $50,000 Road Runner Handicap, Raymond Simpson's Thenew Normal defeated the best three-year-old thoroughbred sprinters with a 11-1 upset win under Juan Ochoa, his third winner of afternoon.
Thenew Normal covered the five-and-one-half furlongs in 1:04.48 for his first stakes win and third victory from four starts. He previously won his maiden against winning company and took a conditioned allowance race.
Mostly Dust finished second while River Grade Trick was third.
The Weston Martin-trained Thenew Normal raced in a striking position and caught pacesetter Mostly Dust at the top of the stretch. The two dueled for most of the final eighth mile before Thenew Normal kicked clear for the one-and-three-quarter length win.
Lincoln Handicap
In the $50,000 Lincoln Handicap for older female thoroughbred females, favored Fan's Cat made a long move around the turn and through the stretch of the six-furlong race for the convincing two-and-one-half length victory in 1:10.44.
Dale Taylor's Fan's Cat, under Ochoa, raced behind the front-running Shemoves down the backstretch before making her winning bid. I Am Lesters Gal also caught Shemoves to grab second place. Shemoves settled for third.
The four-year-old Fan's Cat, from the Todd Fincher barn, raced to her fourth win from eight 2011 starts and had a pair of second-place finishes in her two previous outs, including a runner-up effort in the Foutz Distaff on April 24.
Sierra Starlet
In the $50,000 Sierra Starlet for three-year-old thoroughbred fillies, Helen Nave's Comicsperfectstorm made a stunning return to racing after a year-long layoff with a dominating five-length victory under Ochoa for his first winner on the program.
The Fincher-trained daughter of Comic Genius raced the five-and-one-half furlongs in 1:05.32.
Charleston Bound was second and Squall Wilbud was third.
The odds-on favorite, Comicsperfectstorm's career started in winning style last year when she won three of her four starts, capped by a more than four-length win in the Rio Grande Senorita Futurity as the 7-10 favorite.