RACING THIS WEEK
FEATURES
SERVICES
Ballast Point, under jockey Ramon Guce, clocks the fastest 870 yards at Los Alamitos Race Course since 2006.

© Scott Martinez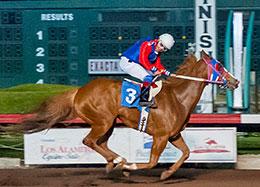 Ballast Point Scores Fastest 870-Yard Win At Los Alamitos Since 2006
LOS ALAMITOS, CA—FEBRUARY 22, 2020—
Paul Jones and Thompson Racing's Ballast Point recorded the fastest 870-yard time at Los Alamitos since October 22, 2006 while defeating 3-5 favorite Hardcore Troubador by two lengths on Sunday night.
Ballast Point led every step of the way in the $11,500 allowance event to record his fourth win in 14 starts. The Quarter Horse gelding by Favorite Cartel has hit the board in 10 of those outings and has earned $43,300. Ballast Point covered the 870 yards in :44.20, the fastest at the Orange County oval at this distance since the Paul Jones-trained two-time AQHA distance champion Snowbound Superstar won the Pat Hyland Handicap in '06 in a time of :44.147.
The track record at this distance is owned by three-time AQHA distance champion Griswold of :43.99. Griswold's time stood as a Quarter Horse world record for a long time.
Coincidentally, Ballast Point's last victory at 870 yards came in the Snowbound Superstar Handicap on December 14. His most recent start, however, was a second place finish to Yanque in the 550-yard Barbra B Handicap here on January 12. Ramon Guce piloted Ballast Point for Thompson and Jones.
"Going around the turn I was a little scared and I thought the Thoroughbred (Hardcore Troubador) was going to get us," owner Terry Thompson said. "Guce did a great job, great ride. Once he changed leads, the horse seemed to accelerate and take off. He's done a great job with this horse and we've had a lot of fun with him."
"If you look at his pattern, he's run 550 and then has had 870 wins. He's finished second both times at 550 and then has come back to accelerate out of the gate (in his 870 yard starts). He's finally started to break out of the gate in his last four, five starts. With this 870 races, the Quarter Horses they have to put it on you to have a couple of lengths leads. Then they have a heck of a shot to win."
Ballast Point will be pointed to the Wheatland Handicap on April 18.
"I enjoy these races," Thompson added. "It's my favorite distance. If you do falter and make a mistake, your horse has a chance to make it up."
Meanwhile, Guce is quietly having a tremendous 2020 season. This track's all-time leading Thoroughbred rider is currently the meet's overall leading pilot with 21 victories, eight more than Thoroughbred riders Francisco Orduna Rojas and Edgar Payeras.
"I'm feeling 200% right now," said Guce, who missed a large portion of the 2018 season and the start of the 2019 meet with injuries. "I'm healthy and feel great right now. Ballast Point might be the best 870-yard horse I've ever ridden. I'm excited about him."
Owned and trained by Edward Freeman, Hardcore Troubador earned $2,587 for running second. The Party Factor, Justamitch and Tiz Indy completed the field.
* * * * * * * * * * * * * *
Courtesy of www.losalamitos.com.