RACING THIS WEEK
FEATURES
SERVICES
Chazaq, under champion jockey Cody Jensen, goes wire-to-wire in Sunday's Grade 1, $956,500 Los Alamitos Super Derby at Los Alamitos Race Course.

© Scott Martinez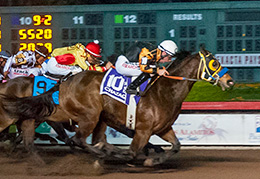 Chazaq Wins Los Alamitos Super Derby To Earn Berth To Champion Of Champions
LOS ALAMITOS, CAóNOVEMBER 12, 2017ó
Jaime Gomez has made it a habit recently of winning Sunday night stakes races at Los Alamitos Race Course.
The trainer saddled Moonie Blues to win the Wild West Futurity on Sunday, October 29 before coming back a week later to saddle J Fire Up to a hard-fought nose victory in the Grade 1, $938,850 Golden State Million Futurity on Sunday, November 5.
Gomez completed his triple of stakes winning Sundays after sending Dutch Masters IIIís Chazaq to a wire-to-wire victory in the Grade 1, $956,500 Los Alamitos Super Derby.
It wasnít just the win for Gomez on this Sunday, as his trainees went 1-2 in the meetís richest derby of the year. Ridden by Cody Jensen, Chazaq finished a half-length ahead of stablemate Katella Deli, owned by Dutch Masters III and Paul Blanchard, with Mark and Peggy Brownís Kissed By An Eagle running third.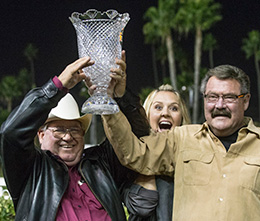 Trainer Jamie Gomez and owner Dr. James Streelman lift the Los Alamitos Super Derby stakes trophy Sunday night.
© Scott Martinez
The victory earns Chazaq an invitation to this yearís Grade 1, $750,000 Champion of Champions to be held on Sunday, December 16. Heíll become Dutch Masters IIIís second starter ever in the Champion of Champions.
"Our first horse in the Champion of Champions was the Bob Baffert-trained Zure Hope Again in 1988," said Jaimes Streelman of Dutch Masters III.
Dutch Masters III sure hoped again that one day they would be back in the Champion of Champions. Thatís now a reality thanks to Chazaq.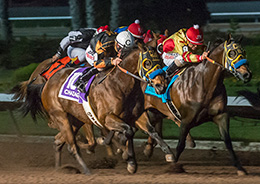 Stablemates Chazaq (#10) and Katella Deli(#9) drive to the finish line in Sunday's $956,500 Los Alamitos Super Derby at Los Alamitos Race Course.
© Scott Martinez
"I flew in from Palm Desert this evening for this race," Streelman added. "I was there with a partner of mine and we brought a whole bunch of people with us to the race. I told them this horse was really good last year, but we had to operate on him and maybe he had lost a step. I also told them I thought he was ready for a big (race). When you have this guy (Jaime Gomez) you have a chance because heís the best."
It was Chazaqís night to shine, just like he had done on the night of the Grade 1 Ed Burke Million Futurity in June of 2016. The Bobby Cox-bred runner won the Ed Burke Million in similar fashion as tonight, flying out of the gate and then cruising to a half-length victory.
On Super Derby night, the gelding by Corona Cartel took the lead right from the start and never looked back on the way to his seventh career win. Sent off at 4-1 odds, Chazaq has now finished in the top two in 12 of his 13 career starts. Chazaq earned $387,030 for winning the Super Derby to take his lifetime bankroll to $948,664.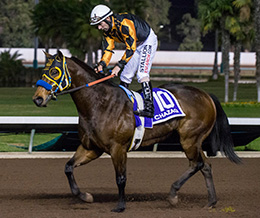 Chazaq, under champion jockey Cody Jensen, returns after winning the Los Alamitos Super Derby(G1) Sunday night.
© Scott Martinez
"This horse showed us what he had in the Ed Burke Million Futurity," Streelman said. "He had some problems in subsequent trials. We did a little surgery after his 2-year-old year. Speaking from personal experience, original equipment is best, but Iím standing here because I got a heart transplant. He didnít have real big problems, but he needed that surgery. This horse came back great. Goodness gracious, we are pretty happy."
For Gomez, the Los Alamitos Super Derby had previously escaped his list of accomplishments, but thatís a thing of the past thanks to Chazaq.
"Iím very blessed," Gomez said. "I have a great crew in the barn and Dr. Ricky Overly does a wonderful job looking after my horses. I canít be any happier. Iíve been blessed to win these stakes race. This horse goes into the starting gate like a pony. When itís time to go, heíll jump 10 yards out of there. Heís as nice as a horse can be. First and second in this race, what else can I ask for? As for (2-1 favorite) LD Is Back, some of the horses crowded him a little bit, but what can you do? Itís a horse race."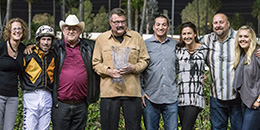 The winning connections of Los Alamitos Super Derby(G1) winner Chazaq.
© Scott Martinez
When jockey Rodrigo Aceves, who had ridden Chazaq in the Super Derby trials, stayed on fastest qualifier LD Is Back for the Super Derby final, the mount opened up for a new rider.
"Cody Jensen didnít have a mount for this race and I needed a jockey. Cody said that he always liked the horse. Iím glad that it worked out. Weíll now have to see how Chazaq comes out. Those are big horses that he would be facing in the Champion of Champions. Weíll see how exits this race. We have a little bit of time before the Champion of Champions."
In the winnerís circle after a big race, Streelman and Gomez are good for a joke or two, and as usual, Streelman left the winnerís circle smiling.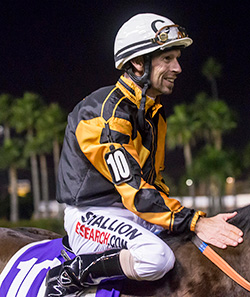 AQHA Racing Champion jockey Cody Jensen after winning the $956,500 Los Alamitos Super Derby.
© Scott Martinez
"Jaime calls me Papa, but now I have to give him a 1099," Streelman said with a smile referring to the IRS 1099 Form used when one receives income other than wages.
Katella Deli, who was second in the Governorís Cup Derby earlier this year, earned $156,655 for his runner-up effort at 32-1 odds in the Super Derby. Ridden by Jose Nicasio, who piloted J Fire Up to victory in last weekendís Golden State Million, the Foose gelding was third during the early going prior to finishing powerfully to earn second place money.
Kissed By An Eagle, trained by Roman Figueroa, was fourth during the first half of the race before moving up to third with a strong late kick at the end. The Idaho-bred son of One Famous Eagle earned $110,580 for his effort.
Jess Mas, Tarzanito, Renewed, LD Is Back, and That Rico completed the field. Billionaire Boy and Look At Her were scratched.
Courtesy of www.losalamitos.com.