RACING THIS WEEK
FEATURES
SERVICES
The 8th annual Jockeys and Jeans Great American Stallion Season Sale has begun and will continue through Thursday January 26, 2023, at 8 pm (CST).

© Jockeys and Jeans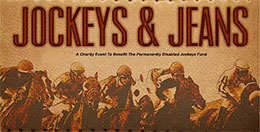 Annual Jockeys and Jeans Great American Stallion Season Sale Underway
JUNO BEACH, FL—JANUARY 24, 2023—The 8th annual Jockeys and Jeans Great American Stallion Season Sale, to benefit the Permanently Disabled Jockeys Fund, has begun and will continue through Thursday January 26, 2023, at 8 pm(CST).
Founded in late 2014 by a group of former jockeys, Jockeys and Jeans has raised millions of dollars for jockeys who have underwent career ending racing injuries. Multiple fund-raising events throughout the Thoroughbred racing industry, as well as the Quarter Horse racing world are organized to benefit permanently injured riders.
Included in this year's Great American Stallion Season Sale, with all proceeds going to the Permanently Disabled Jockey Fund (PDJF), are two breeding's to stallions who have officially been declared to have a "full book" for 2023's breeding season.
A breeding to AQHA Champion Hes Relentless, who sired 2022 All American Futurity(G1) winning champion Hes Judgeandjury, as well as a breeding to AQHA Champion and Grade 1 winner Flying Cowboy 123 are available through the online stallion auction.
The full list of stallion seasons available to be bid online for the Great American Stallion Season Sale are:
-Big Lew
-Captain Courage
-Carters Cartel
-Coronado Cartel
-Coronas Leaving You
-Cyber Monday
-Dulce Sin Tacha
-Eos A Political Win
-Flying Cowboy 123
-Gold Heart Eagle V
-Good Reason SA
-Hes Relentless
-In Hott Pursuit
-Jess Different
-Jess Good Candy
-Jesscuzican
-Kiss My Hocks
-Kvn Corona
-Mental Error
-Power Jam
-Seperate Interest
-Tarzanito
-The Marfa Lights
-Uncle D
To view and to bid online CLICK HERE.
For additional information or questions contact Barry Pearl at jockeysandjeans@gmail.com or call (717) 503-0182.
Visit the Jockeys and Jeans website jockeyandjeans.com