RACING THIS WEEK
FEATURES
SERVICES
Texas A&M University's 14th Annual Legends Premier Stallion Season Auction's third of three sessions will close Thursday, February 10th.

© Legends Premier Stallion Season Auction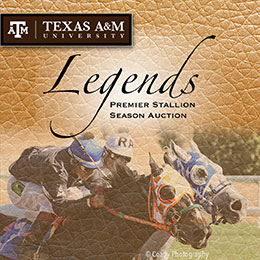 Legends Premier Stallion Auction Session Two Closes Thursday
COLLEGE STATION, TX—FEBRUARY 7, 2022—
Texas A&M University's 14th Annual Legends Premier Stallion Season Auction's third of three sessions will close Thursday, February 10th. All bids must be received by noon (CST), and no seasons will be sold thereafter.
To register and bid, donate a stallion season or more information CLICK HERE.
More than 33 great racing stallions are still available including champions and or champion sires Gold Heart Eagle V, Five Bar Cartel, The Louisiana Cartel, Open Me A Corona, Chilitos, Coronado Cartel, Big Lew, Power Jam, Good Reason SA ICSI ONLY, and The Marfa Lights to name only a few.
For a complete list of Racing Quarter Horse stallions available CLICK HERE.
In addition the newly revamped Legends Premier Stallion Auction website has links to stallions in by breeds, disciplines and ICSI Only. Below are links to each:
Legends Premier Stallion Season Auction's biggest legacy is providing exceptional academic and clinical foundations for trainees today—so they will make a significant impact on the horse industry of tomorrow.
Their success is dependent upon and made possible through the generosity of donors and buyers participating in our annual Legends Auction and gifts specifically directed to the program.
Plan your breeding season by helping to support these future leaders as they continue advancing their knowledge in research and clinical studies dedicated to enhancements in horse breeding through the Equine Reproductive Studies programs at Texas A&M University. The final session (three) is scheduled from noon January 25, 2022 thru noon February 10, 2022. All times are Central.
For additional information Call Warren Hohertz at (979) 862-2031 or email: legends@cvm.tamu.ed.