RACING THIS WEEK
FEATURES
SERVICES
Party Politics, under jockey Ramon Sanchez, winning the $1-million Grade 1 Ed Burke Million Futurity at Los Alamitos Race Course Sunday night.

© William Zuazo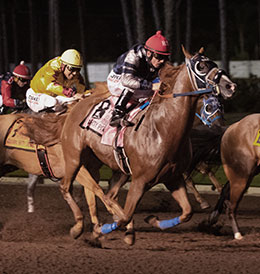 Itís Party Time For Aleman Family After Winning Ed Burke Million Futurity
LOS ALAMITOS, CA—JUNE 19, 2022— Father's Day 2022 is one that the Aleman family will never forget after their Apollitical Jess gelding Party Politics upset a talented field to win the Grade 1, $1,000,000 Ed Burke Million Futurity at 10-1 odds on Sunday at Los Alamitos.
Ridden by Ramon Sanchez, this track's all-time leading jockey in stakes wins, and trained by Juan Aleman, Party Politics bumped at the start and lugged out at the midway point but was remained close to fastest qualifier and early leader Aint He Tempting.
Sanchez did a tremendous job keeping Party Politics focused on the finish line and in the final 110-yards the J. Garvan Kelly-bred runner responded brilliant. In the end, the Oklahoma-bred crossed the wire a half-length ahead of Dunn Ranch's Aint He Tempting to give Aleman his first Ed Burke Million win and Sanchez his fourth.
Aleman, who trained the AQHA World Champion Apollitical Jess to glory in both the Champion of Champions and the Los Alamitos Super Derby, also spearheads the ownership group of JGA Racing Stables, Inc., which owns Party Politics. Aleman put the syndicate a few years ago and it consists of his parents, family members and friends. In Party Politics' case, Aleman's parents and a friend are part of the ownership group.
Four-time Ed Burke Million Futurity winning trianer Jamie Gomez and the Burke Family present the Ed Burke Million Futurity stakes trophy to the winning connections of Party Poliitcs.
© William Zuazo
"This is a proud moment for Juan," said Juan Aleman, Sr. "It brings us great happiness to have accomplished this win with this horse. We'll continue to strive forward. I know there are highs and lows, but we'll keep going. With the knowledge that my son has, we'll keep going and hope to win more."
Prior to deciding to become a trainer, Aleman studied metallurgy, which is the science and technology dealing with the properties of metals and their production and purification. Aleman decided that horses looked shinier than metals as far as he was concerned and opted to make a career move.
"I told him that he should stay and pursue a career in metallurgy," Aleman, Sr. added. "But I told him that if working with horses was his wish that he should do it. I didn't want him to look back years later and regret not having done this. I told him then that if he wanted to work with horses that he should just do it right away. Thankfully he's been triumphant in this business."
Aleman has gone on to saddle the winners of 717 Quarter Horse races for over $17 million in earnings. Party Politics joins a long list of stakes winning standouts for the trainer, a list that includes champions Apollitical Jess, Apollitical Blood, Apollitical Time, Kiss Thru Fire and Flame N Flash, plus Grade 1 winners Bon Accord, Fovee, and Nellie Delaney.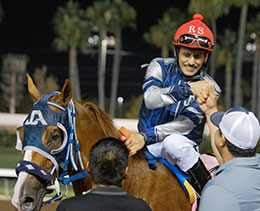 Jockey Ramon Sanchez congratulates trainer Juan Aleman after their win in Sunday's Ed Burke Million Futurity.
© William Zuazo
Meanwhile, his JGA Stables has now recorded 13 wins and two of them have been in major futurities. In addition to Party Politics' win in the Ed Burke, JGA Stables and Aleman won the 2017 Robert Adair Kindergarten Futurity with Fire And Sass.
"JGA is a family group," Aleman said. "It's my dad, my mom, it's our family. We have a friend that is involved so it is a little syndicate. What we do is we all join up and pitch in. We paid $100,000 for (Party Politics) but he paid his way tonight.
"This horse always showed so much promise. We had a little setback with the horse. He didn't get all his works in and we felt the pressure to go in the Ed Burke. We only gave him one 220-yard work (on March 30) and then his (first) race (on May 8). His trial was his first race going 350 yards and only off of one 220-yard work. We knew that he was going to be a little short in that race, but in the final, the way he pulled up even Ramon said that in this horse's next time out that he would be tough in the final. We just needed a clean break. We knew the horse could finish strong.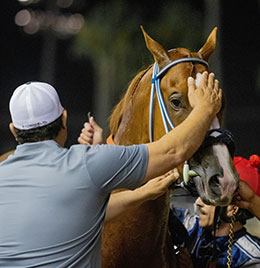 Party Politics in the Los Alamitos winner's circle.
© William Zuazo
"He had a little bronchial infection, and he got a little sick on us," Aleman said. "It was right after the 220 (work). He had 30 days between the work and his first race. After his (workout) we gave him 30 days to recuperate. We lost a work and we were not able to get him another work. He was even a question mark to run in the trial, but we didn't have anything paid up for him other than the All American Futurity trials and we would have nothing to run at until the end of the year in the Golden State Million trials. We really didn't want to go to Ruidoso. Once three weeks passed after he got sick, I said if his bloodwork shows up fine then we would take our shot in the Ed Burke. We cleared him up and once he got the okay with the vets, we said let's go for it.
"That night (of the trials) I thought he was going to win the race. He had trouble coming out at the start. That was Ramon's first start on the horse and he didn't know him that well. Ramon told me getting off the horse after the trials that if he qualified that he would be tough in the final. He was right. The horse pulled up great after the trials. He was a little tired which I knew that he would be, but those three weeks. He recuperated great. He was never off his feed. He did just great. I would have been happy if we would have split the field, but we won it."
For Sanchez, Party Politics joins Foose, Separate Fire, and KVN Corona as horse he has piloted to victory in the Ed Burke. This may have been his toughest win because Party Politics had to overcome a little bit of early trouble.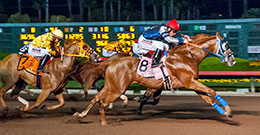 Party Politics surges at the wire to win the Ed Burke Million Futurity(G1) at Los Alamitos Race Course.
© William Zuazo
"It was a tough race," Sanchez said. "We broke evenly. The favorite (Aint He Tempting) was pressuring, but in the end my horse was better. We battled the entire way. I felt that it was until very end that we were stronger. This is such a wonderful moment for me thanks to the people that still believe in me.
In winning for the second time in three starts, Party Politics earned $403,200. The January gelding is the 11th winner by the Country Chicks Man mare Shanachee, who is also the dam of Grade 3 SLM Big Daddy Stakes winner O Donovan Rossa.
Ridden by Armando Cervantes for trainer Monty Arrossa, Aint He Tempting earned $163,200 for finishing second. The Tempting Dash gelding is a full-brother to multiple stakes winner Aint She Tempting.
J. Francisco Diaz's Apollitical Jess filly Quirky Bitty Jess earned $115,200 for her third place finish for trainer Lindolfo Diaz and jockey Alberto Zepeda. The father/son duo of J. Francisco and Lindolfo Diaz were also represented by El Aventurero, who earned $67,200 for running fourth.
Navaja, Frivolous, Apollitical Jet, DK Double A, and Henry D completed the field. Escalated was scratched before the start of the racing card.
* * * * * * * * * * * * * *
For more info, please contact larace@losalamitos.com. Follow us on Twitter or Instagram at @losalracing or visit us online at losalamitos.com.