RACING THIS WEEK
FEATURES
SERVICES
Grant Farms, LLC purchased Friday's sale-topper, Miss Inseparable in-foal to Apollitical Jess for $160,000.

© Fred Carmona / StallioneSerach.com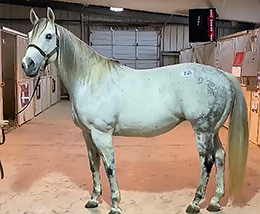 Miss Inseparable Highlights Solid Heritage Place Winter Mixed Second Day
OKLAHOMA CITY, OK—JANUARY 14, 2022—
The second session of the Heritage Place Winter Mixed Sale finished Friday with another strong day and across-the-board increases in gross, average and median.
Hip 460 Miss Inseparable commanded $160,0000 for Grant Farms LLC to top the second session of the 43rd annual mixed sale. Dunn Ranch, Agent consigned the 11- year-old multiple stakes-producing sister to Champion Inseparable and Grade 3 winner Separate Interest. The gray mare sold in-foal to leading sire Apollitical Jess.
"Day 2 of the Winter Mixed 2022 sale finished strong with an average of $22,330 on horses sold. That represents a 16% increase over the second day last year," Heritage Place General Manager Spence Kidney said Friday. "Eighty-nine percent (89%) of the horses offered through two sessions were sold and we look forward to another great day to complete the third day."
A total of 474 horses from the 530 offered changed hands Friday for gross receipts of $10,162,800. The average of $21,441 rose 17% over the $18,359 average for the first two days of 202. The median was up 8% to $14,000 compared to $13,000 after two sessions last year.
Grade 1 Texas Classic Derby winner Perrys Double Down was purchased for $150,000 by Ramon Ayala.
© StallioneSearch.com
A year ago, 535 horses were sold of the 567 offered for receipts of $9,822,100. Last year's sale was only two-days.
Geldings continued to be in great demand on Friday with Grade 1 winner Perrys Double Down fetching $150,000 from Ramon Ayala. Hip 459, a5-year-old son of leading sire Mr Jess Perry from the Fishers Dash mare Double Down Darling won the Texas Classic Derby(G1) and earned $360,016. Lazy E Ranch, LLC, Agent for Stinebaugh Equine Enterprises, LLC was the consignor.
Another gelding, Hip 337 Press Is My Hero brought a final bid of $131,00 from the Press My Hero Syndicate. Dunn Ranch consigned the 3-year-old son of leading sire Valiant Hero who was a finalist in the 2021 Grade 1 All American Futurity at Ruidoso Downs. Press My Hero, out of the Corona Cartel mare Preslee The First, is a half-brother to Oklahoma Futurity(G2) winner Aint She Tempting.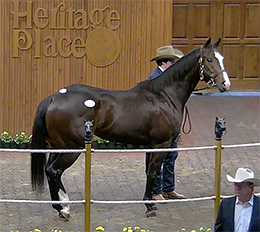 Press My Hero Syndicate paid $131,000 for 2021 All American Futurity(G1) finalist Press Is My Hero in the second session Friday.
© StallioneSearch.com
Grant Farms LLC has led buyers through two sessions with five purchases for $303,000. Brian Gunder paid $272,000 for six head and Rachuan Suarez MVZ has signed six tickets for $244,500.
Lazy E Ranch, LLC, Agent for Reliance Ranches LLC is the leading consignor or agent through day 2 with 28 head selling for $940,000. Lazy E Ranch, Agent sold another 29 head for $733,000. Marty Powers, Agent has 24 head totaling $682,200.
The leading sire of short-yearlings through two sessions (by average with two or more sold) is world champion sire FDD Dynasty with three yearlings averaging $20,167. Dominyn had three yearlings for $18,667 and Hes Relentless has sold two for an $18,000 average.
Apollitical Jess is the leading covering stallion through session two sessions (by average with two or more sold) with three in-foal mares averaging $93,333, Tres Seis has two in-foal mare for $66,500 average and Hez Our Secret had two in-foal mares average $46,250.
For preliminary results from Thursday and Friday's sessions, including hip-by-hip prices, CLICK HERE.
* * * * * * * * *
Saturday's closing session will get underway promptly at 10:00 a.m. offering Hips 623 thru 933.
Heritage Place will offer online bidding, as well to the horsemen and women who can't attend can view the sale live through an online webcast. For more information and a links to the Catalog Preview, Online Bidding and Sale Webcast CLICK HERE.
Online bidders needed approval by the end of the day Tuesday (Jan 11) to bid.
The Winter Mixed catalog is available for download at the Heritage Place website CLICKING HERE.
A downloadable iPad version is currently available on the RGP Catalog App. The RGP Catalog App is available for both Apple and Android phones and tablets. A Catalog App tutorial can be viewed by CLICKING HERE.
The free RGP Catalog App can be downloaded from www.robinglenn.com or by searching for "RGP Catalog App" in the Apple App Store.
Persons who do not plan to bid but want to watch the sale can view the 2022 Winter Mixed Sale Webcast by CLICKING HERE Thursday, Friday and Saturday.
For additional sale information call the Heritage Place Sale Company at 405.682.4551 or visit www.heritageplace.com.
Preliminary sales results can be found in the Auction Leaders section on StallioneSearch.com following each day's session.