RACING THIS WEEK
FEATURES
SERVICES
The Lone Star Park Charitable Foundation will host its annual grant ceremony at Lone Star Park on Tuesday.

© Lone Star Park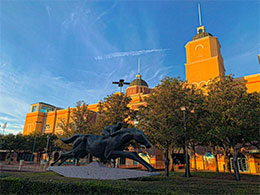 Grand Prairie Charities to be Awarded Funds from Lone Star Park Charitable Foundation
GRAND PRAIRIE, TX–MARCH 17, 2023–The Lone Star Park Charitable Foundation for Grand Prairie - a 501 (c) (3) non-profit organization will host its annual grant ceremony at Lone Star Park on Tuesday (March 21). Being awarded are local Grand Prairie charity and non-profit organizations.
Charities chosen to share in the distribution are - Boys & Girls Club of Greater Dallas, Grand Prairie Club; Children First Counseling Center; Christian Women's Job Corps; Crime Stoppers, Inc.; Crisis Response Ministry; Food & Clothing Co-Op, Grand Prairie; GPFD Hearts & Hoses; Lifeline Shelters for Families, Inc.; Santa Cop, Inc; Grand Prairie United Charities; Vietnam Veterans of America, Grand Prairie Chapter and YMCA of Grand Prairie.
"It is truly an honor to contribute to these worthwhile Grand Prairie organizations and their hard-working volunteers," said Lone Star Park Vice President of Operations, Merlinda Gonzalez, who sits on the Foundation's Board as President. "As of last year, we've been able to give more than $1.3-Million back to the community through various fundraising efforts, and we look forward to continuing our efforts beginning with our next major fundraising event on June 21, 2023."
The Lone Star Park Charitable Foundation celebrates its 21st anniversary this year, and will be hosting its annual fundraising event "A Taste of the Crown Gala" on Wednesday, June 21, 2023 at Lone Star Park.
For more information on the Lone Star Park Charitable Foundation, please contact Diane L'Heureux at (972) 237-5127.
About Lone Star Park
Lone Star Park at Grand Prairie; A major league sports entertainment attraction that features two exciting racing seasons annually. Over 700,000 guests visit our beautiful facility each year, which features a seven-level glass-enclosed Grandstand, highlighted by our 1,200-seat Silks Dining Room and our 48 luxurious Penthouse Suites, all overlooking the newest race track in Texas. Situated next to our Grandstand is the 36,000 square foot world-class Las Vegas-style Racebook and simulcast facility, Bar & Book, which features wagering on horse racing from around the world 7-days a week year-round.
2023 Thoroughbred Racing Season; The heart of our product offering, running 44-days from April 13 through July 4. The Thoroughbred Racing Season runs during Triple Crown season and features an action-packed promotional schedule with lively entertainment and fun for the entire family.
Lone Star Park is located on Beltline Road, just ½ mile north of I-30 in Grand Prairie, Texas. Visit LoneStarPark.com for more information.