RACING THIS WEEK
FEATURES
SERVICES
All American Futurity winning trainer Donnie Lee"Hoss" Strickland passed away Sunday in Sallisaw, Okahonma.

© Coady Photography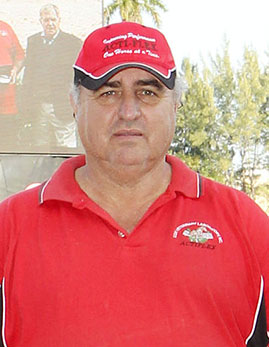 Memorial Services Set October 5 For All American Winning Trainer Donnie Lee Strickland
SALLISAW, OK–SEPTEMBER 28, 2022–A memorial service for All American Futurity winning trainer Donnie Lee "Hoss" Strickland will be held at 6:00 pm (CDT) Wednesday, October 5, 2022, at Agent Mallory Martin Chapel in Sallisaw, Oklahoma.
Strickland, 67 of Sallisaw, passed away Sunday, September 25, 2022.
He was born on April 17, 1955, in Four Oaks, North Carolina to Ethel Lee (Stallings) Strickland and Patrick Royal Strickland.
Strickland was a member of Blue Ribbon Fellowship Church,
A longtime horse trainer, according to Equibase records from 1994 to 2020, Strickland saddled 690 winners and earners of $9.8 million. He won the 1996 All American Futurity(G1) with Southern Rose Ranch's Strawfly Special gelding Streakin Flyer.
His other top runners included Grade 1 Remington Park Futurity winners Flying Dino and Game Streaker, Bank of America Challenge Championship(G1) winner Feature Jess Rockin, All American Futurity(G1) runner-up Flys R Droppin, Heritage Place Futurity(G1) runner-up Sweet Candy Rose to name only a few.
Strickland is survived by his son Donnie Lee Stickland, II and partner, Raudy Maxwell of Perryville, AR; daughter, Darby Duncan and partner, Kirksy Nixon of Cameron, OK; three grandchildren, Kylee Strickland, Kolton Wann and Kruz Nixon; twin brother, Ronnie Leland Strickland of Selma, N.C.; one brother, George David Strickland of Benson, N.C.; and numerous other relatives and a host of loving friends.
He was preceded in death by his parents.
The Strickland family will have a visitation dinner before the service at 4:30 pm at The Home Place at Agent Mallory Martin Funeral Home.

For additional information contact Agent Mallory Martin Funeral Service, Inc. at (918) 775-4414.