RACING THIS WEEK
FEATURES
SERVICES
Revolutionary Racing has submitted an application for the final racetrack license in the state of Kentucky.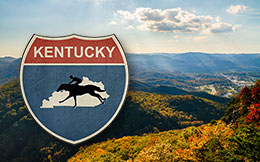 Revolutionary Racing Seeks Kentucky Racing License To Build Quarter Horse Track
LEXINGTON, KY–JUNE 22, 2022–According to an article by Matt Hagarty, published on DRF.com yesterday, Revolutionary Racing has submitted an application for the final racetrack license in the state of Kentucky.
Plans call for opening a Quarter Horse racetrack and casino in Ashland, which is near the borders of both West Virginia and Ohio.
In a meeting Tuesday of the Kentucky Horse Racing Commission, Revolutionary Racing made a presentation on its plans for the proposed track and casino.
Racetrack license-holders are the only companies that are allowed to operate slot machine-like devices known as historical horse racing machines, according to Kentucky state law..
Revolutionary Racing co-founder Larry Lucas said his group plans to spend $55 million on the facility. He pointed out there were limited opportunities for Quarter Horses east of the Mississippi and operating a Quarter Horse track would avoid competition between Kentucky's yearlong Thoroughbred racing circuit.
Revolutionary Racing said that the track plans to offer $500,000 a day in purses, however they did not have a firm answer on the number of live race days. Purses would be subsidized by the casino operation.
Another founder of Revolutionary Racing Prentice Salter, said the company's "First priority has always been, first and foremost, to build first-class facilities." Salter told commission members they are projecting $500 million in annual handle through the casino.
According to KHRC chairman Jonathan Rabinowitz the commission is about to begin its due-diligence process.
Revolutionary Racing purchased Colonial Downs for $20 million in partnership with the Peninsula Pacific in 2018 and lobbied successfully for legislation that allows the track and its OTBs to operate historical horse racing machines.
Peninsula Pacific then acquired all the interests in the Virginia properties early this year. Churchill Downs Inc. announced a deal to buy nearly all the company's assets, including several large casinos, Colonial, and its OTBs, for $2.5 billion.