RACING THIS WEEK
FEATURES
SERVICES
Texas Racing Commission plans to cease exporting simulcast signal July 1 in order to evade HISA regulation.

© Lone Star Park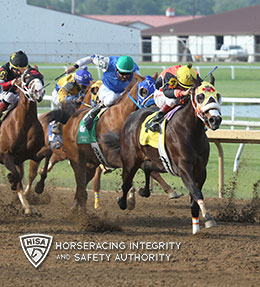 Texas Racing Commission To Cease Exporting Simulcast Signal July 1 To Evade HISA Regulation
AUSTIN, TX–JUNE 14, 2022–Yesterday (June 13) the Texas Racing Commission issued a public notice defying compliance with the Horseracing Integrity and Safety Authority, saying state law requires meets in Texas to be run only under the authority of the commission.
The notice, signed by executive director Amy Cook, describes what it calls a policy change based on the commission's perception of a conflict among the requirements and mandates of HISA, the Interstate Horse Racing Act of 1978, the Texas Racing Act, and the Texas Rules of Racing.
"We are denying HISA jurisdiction by disapproving signal export for all 'covered horse races,'" Cook told horseracing.net. "Our goal is the prevention of regulatory chaos, and the cost will be the loss of revenue in that export signal … but you cannot put a price on certainty."
The move to eliminate in-state wagering on imported signals and out-of-state wagering on Texas races will be a severe economic impact to the state's horse business. In Texas advance deposit wagering is illegal and all legal bets must be made at a Texas racetrack. As much as 90% of state's handle comes via simulcasting according to industry studies.
However, the Texas Racing Commission will allow pari-mutuel wagering on in-state races:
"Since the Texas Racing Commission regulates all aspects of Texas horse racing, including, in particular, pari-mutuel and simulcast wagering in Texas, the application of federal law pursuant to HISA in any aspect of horse racing regulation for a particular race or meet will necessarily preclude the Texas Racing Commission from full compliance with the Texas Racing Act and will, therefore, necessitate that no such affected race shall be allowed to conduct on-site pari-mutuel wagering or provide simulcast export signal. Any such request will, of necessity, be denied by the Texas Racing Commission."
The adoption of this policy is to assure uniformity in Commission action and to provide clarity to all track associations concerning their continued compliance with the Texas Racing Act as well as with HISA, Cook's letter concluded.
HISA met with Cook and TRC in Texas last week. Local horsemen and stakes holders have expressed displeasure with the way HISA is being rolled out and with HISA itself.
Cook advocates that implementation of HISA in its entirety, including the collection of fees from horsemen, be delayed for 18 to 24 months. After the parties could not reach agreement Cook issued the June 13 notice.