RACING THIS WEEK
FEATURES
SERVICES
Princess Abigail K. Kawananakoa, a celebrated breeder of racing American Quarter Horses and direct descendant of the Hawaiian royal family.

© Scot Martinez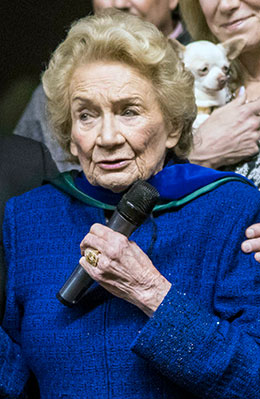 New Los Alamitos Stakes Honors AQHA Hall Of Fame Member Princess Abigail K. Kawananakoa
LOS ALAMITOS, CA—JUNE 10, 2022—Princess Abigail K. Kawananakoa, a celebrated breeder of racing American Quarter Horses and direct descendant of the Hawaiian royal family, will be recognized at Los Alamitos each year with the running of a $100,000 race for fillies and mares named in her honor.
The Abigail Kawananakoa Stakes will be held for the first time on Sunday, June 12 (see related story) at Los Alamitos Race Course.
A 2018 inductee to the AQHA Hall of Fame, Kawananakoa's accomplishments stands at the top echelon in the history of the sport. She has been among Quarter Horse racing's most productive owners and breeders, campaigning a stable of stars during the mid-1990s.
In 1994 and 1995, Kawananakoa was voted AQHA Champion Owner based on the resounding success of her runners. Her Evening Snow won the inaugural running of the Los Alamitos Million Futurity in 1995, a race that has since grown and evolved into the Los Alamitos Two Million Futurity.
Evening Snow took some time off after the end of his juvenile campaign before triumphantly in 1996 to become the first horse of any breed to sprint a quarter of a mile from a standing start in less than 21 seconds.
Kawananakoa also campaigned A Classic Dash, the 1993 winner of the All American Futurity at Ruidoso Downs and Dash For Cash Futurity at Los Alamitos.
Other top runners to carry Kawananakoa's red and gold silks have included track record holder Divide The Cash and stakes winners Chance To Fire, Time For Royal Cash, Native Tea Rose, Racy High Roller, Significant Heart, Staggering Stride and Royal Miracle Dip.
The acclaimed has also raced in her name over 1,500 Quarter Horse starters for over $3.6 million in earnings. Her runners have won 220 races and have finished in the top three in over 630 occasions.
For many years, Kawananakoa has also directed her energy and philanthropic resources toward the preservation and perpetuation of Hawaiian language, culture, and history. She also has been a lifelong devotee of horses, and as a young woman was a talented equestrian, a passion that inspired her to promote research and teaching in equine musculoskeletal health at Colorado State University.
She would go on to earn an honorary degree from Colorado State University for her longtime support of global equine health and for leadership in preserving native Hawaiian culture.
She received the diploma for her honorary doctorate during a special presentation on the night of the 2016 Los Alamitos Two Million Futurity.
Kawananakoa is also a recipient of the Frank Vessels Memorial Award presented by the Pacific Coast Quarter Horse Racing Association for her overall contributions to the sport of Quarter Horse racing in 2011.
* * * * * * * * * * * * * *
For more info, please contact larace@losalamitos.com. Follow us on Twitter or Instagram at @losalracing or visit us online at losalamitos.com.