RACING THIS WEEK
FEATURES
SERVICES
What American Quarter Horsemen need to know about the Horseracing Integrity and Safety Act.

© Coady Photography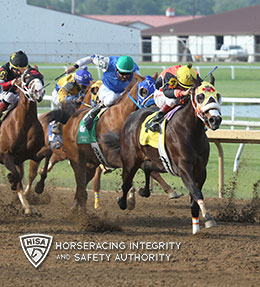 Horseracing Integrity and Safety Act Frequently Asked Questions
AMERICAN QUARTER HORSE ASSOCIATION—JUNE 1, 2022

What is HISA?
The Horseracing Integrity and Safety Authority (HISA) is responsible for drafting and enforcing uniform safety and integrity rules in Thoroughbred racing in the United States. It is intended to create a national, uniform set of rules.
HISA will be overseen by the Federal Trade Commission and is comprised of two programs: The Racetrack Safety Program, which goes into effect July 1, 2022, and the Anti-Doping and Medication Control Program, which is scheduled to go into effect in early 2023.
For more information, visit HISA's website.
What is the impact to racetracks?
Racetracks that conduct Thoroughbred racing need to "opt-in" to the HISA program and achieve full accreditation. Some state jurisdictions have chosen to take on the fees associated with this program, while others are exploring options.
Should a racetrack not demonstrate a good faith effort to come into compliance, HISA has the authority under the Act to remove that track's authorization to simulcast their live racing product to other facilities.
Are American Quarter Horses covered?
At this time, American Quarter Horses are not directly covered by upcoming HISA regulations.
Do I need to register with HISA?
American Quarter Horse owners, trainers and jockeys do not need to register themselves or register their horses with HISA if they are solely involved in American Quarter Horse racing.
What is AQHA's position on HISA?
The American Quarter Horse Association is strongly committed to the welfare of the racehorse and supports industry reform to improve horse safety, but the Association cannot support the Horseracing Integrity and Safety Act until key questions are adequately addressed.
AQHA is concerned with the HISA because it lacks details about the funding sources that would sustain the proposed authority and be attainable, affordable and sustainable for all jurisdictions.

The Association is also concerned about the proposed elimination of race-day use of the medication furosemide, commonly known as Lasix, which is used to mitigate the occurrence of exercised-induced pulmonary hemorrhage (EIPH) in racehorses. Numerous industry studies provide evidence that the administration of Lasix improves the welfare of racehorses and indicate there is no link between the use of Lasix and musculoskeletal issues that may be a contributing cause in catastrophic breakdowns.
AQHA is dedicated to industry reform and works closely with international, national and state racing organizations and commissions to evaluate protocols that allow for uniform medication rules and strengthened deterrents to performance-enhancing drugs, and looks forward to continuing this collaborative effort.
* * * * * * * * * * * * * * *
AQHA News and information is a service of the American Quarter Horse Association. For more news and information, follow @AQHA Racing on Twitter, "like" Q-Racing on Facebook, and visit aqha.com/racing.