RACING THIS WEEK
FEATURES
SERVICES
The new QData Catalog App is designed with horsemen and horsewomen in mind.

© AQHA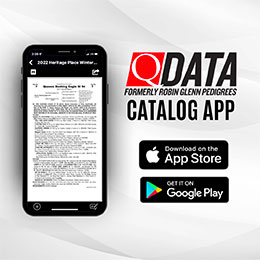 QData Releases New Sale Catalog App, QData Catalog App
EL RENO, OK–MAY 18, 2022–QData, formerly Robin Glenn Pedigrees, has released a new sale catalog app called the QData Catalog App. This updated version replaces the RGP Catalog App, once again allowing users to carry the country's premier sale catalogs for race and performance horses in their pockets.
The original Catalog App was the first of its kind to offer sale companies, sellers and buyers the ability to access and manage sales from their phones or tablets.

The new version offers the following features:
• Save, sort and email favorited pages from multiple catalogs.
• Annotate, markup and print pages.
• Share specific horses with user notes and markups on Facebook or via text, email or messenger.
• View videos and photos directly from the catalog page.
• Search by horse name, sire, dam, dam sire, sex, year foaled, AQHA Challenge nominated horses, consignor or by specific terms on the catalog page.
• Rate horses with your conformation evaluations.
The upcoming Shawnee Horse Sale is currently live on the app. More catalogs will be added throughout the year, including Western Bloodstock's National Cutting Horse Association, National Reined Cow Horse Association and Breeder's Challenge Barrel sales; Heritage Place; Los Alamitos; National Reining Horse Association; Ruidoso; Triangle Sales; Texas Quarter Horse Association; and Bowie Livestock's catalog horse sales.
"Our goal has always been to provide horsemen with innovative marketing and evaluation tools," said Robin Glenn, director of QData. "This app is no exception, and it truly provides a one-of-kind service for horsemen."
The app works in partnership with the QData Catalog Builder. All catalogs produced directly by QData or self-produced by others using the Catalog Builder can be featured on the Catalog App. For more information on the Catalog Builder, CLICK HERE.
The QData Catalog App is available for iPad, iPhone and Android phones and tablets from the App Store and Google Play.
Download the QData Catalog App to view upcoming sales.
No additional sales will be posted to the RGP Catalog App, however previous sales are listed on the new QData Catalog App.
Anyone who wants to save their notes and ratings from the old app can back the RGP Catalog App up, and copy that saved information to the new Catalog App.
About QData
QData offers horsemen tools for marketing and evaluating American Quarter Horses and breeds that cross onto Quarter Horses. This includes Catalog-Style Pedigrees, Stallion Stat Pages, DIY Horse Sale Catalogs and the QData Online Performance Database.

* * * * * * * * * * * * * * * * *
AQHA News and information is a service of the American Quarter Horse Association. For more news and information, follow @AQHA on Twitter and visit www.aqha.com/news.