RACING THIS WEEK
FEATURES
SERVICES
Day and night racing exciting is on tap at Los Alamitos. Simulcasting on the Kentucky Derby heads Saturday daytime, and at night the 10-race card will have a $48,000 Pick 6 Carryover!

© Los Alamitos Race Course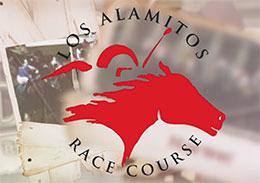 Pick 6 Carryover, Stakes Events The Focus Of Los Alamitos Preview Show
CYPRESS, CA–MAY 07, 2022–A Pick 6 Carryover of $48,006 and the runnings of the $35,000 La Pacifica Handicap on Saturday and $50,000 Miss Princess Handicap on Sunday headline the weekend at Los Alamitos and are the focal point of track's Preview Show.
Saturday's card will begin at 7 p.m. following the huge Kentucky Derby day action.

The Pick 6 will begin in race five and will conclude with a full field of 10 sophomore fillies racing in the La Pacifica. Episode 39 of the Preview Show will also take a look at the five juvenile races on Saturday night and will take a quick glimpse of the Sunday night action at Los Alamitos.
The Preview Show will also feature interviews with trainer Pat Visscher, who will saddle Los Alamitos Oaks winner Sweet Tess in the La Pacifica, and trainer Jose Flores, who will send out Sweet Dasha Fire also in the La Pacifica. Leading rider Armando Cervantes will share his thoughts on Jet Wings One, a mare he will ride in the Miss Princess, and about the three horses he qualified to next week's Robert Adair Kindergarten Futurity. The show concludes with an interview with trainer CC Perkinson, as she sends out her final starter of the meet at Los Alamitos before heading with her stable to Canterbury Park.
Jose Contreras, the analyst on TVG's "The Quarters" hosts the webcast, which also features track announcer Michael Wrona and simulcast show analyst Chris Wade, as they provide their top picks for the night. The webcast is available on demand on YouTube and as always, the link will be available at LosAlamitos.com and the track's social media pages on Twitter (@losalracing), Instagram and Facebook (Los Alamitos Race Course). CLICK HERE for the direct link for the show.
Orlando Gutierrez, the track's marketing and publicity director, joins Contreras for La Previa, the Spanish version of the Los Alamitos Preview Show. Los Ponies and Professor G preview the La Pacifica and Miss Princess as well as the Pick 6 Carryovers. Interviews with jockeys Armando Cervantes and Ricardo Ramirez are featured on the show. New episodes of this webcast will be released each week to preview the upcoming racing action. A variety of current and past racing personalities are always featured on each show.
For more information, please contact Los Alamitos Race Course at larace@losalamitos.com .