RACING THIS WEEK
FEATURES
SERVICES
Turf Paradise will increase purses 30 percent for its' 2021-22 meet, which opens November 5.

© Coady Photography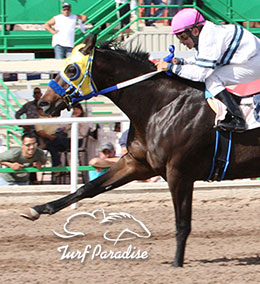 The Track Announces 30-Percent Purse Boost Prior To The Opening Of Its 2021-22 Season.
PHOENIX, AZ—OCTOBER 21, 2021—
Turf Paradise announced on Wednesday that overnight purses will get a 30-percent increase and the track's stakes program will receive a $1-million infusion.
Located in Phoenix, Arizona, Turf Paradise will open its 2021-22 season on November 5. The 125-day meet will run five days a week through May 7, 2022.
"The increases are a result of state and federal subsidies for horsemen's purses," said Turf Paradise general manager Vincent Francia.
During Turf Paradise's last meet, which ran 79 days, purses averaged $105,000 per day. The upcoming season will offer purses of $130,000 per day. Both Thoroughbreds and Quarter Horses will benefit from the increases.
* * * * * * * * * * *
With more than 50 off-track-bettting locations across Arizona and Turf Paradise able to be wagered on many platforms across the country, Turf Paradise will be increasing its social media presence and interaction with fans on their Facebook page and Twitter account. (@turf_paradise). The track's Grand Canyon Pick-6 jackpot wager will begin with a pool of $28,009.06, which will be carried over from the end of the 2019-20 season.