RACING THIS WEEK
FEATURES
SERVICES
Champion sire Jess Zoomin is owned by Mark and Teresa Myers of Dunkirk, Ind. and Roger Cyrulik of Clinton, Ill. and now stands at West Central Veterinary Services in Rockville, Illinois.

© Teresa Myers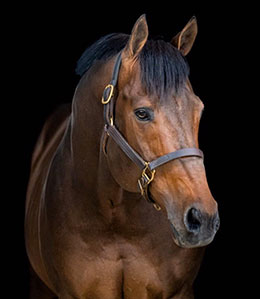 Indiana Stallion Jess Zoomin Sire of AQHA Champion 2-Year-Old Filly Jes An Angel
SHELBYVILLE, IN–FEBRUARY 2, 2023–Fresh off the heels of a tremendous season of Quarter Horse racing in Indiana, another boost to the program was received in late January as Jes An Angel was crowned AQHA Champion Two-Year-Old Filly of the Year.
The standout filly is by the sire, Jess Zoomin, who is owned by Mark and Teresa Myers of Dunkirk, Ind. and Roger Cyrulik of Clinton, Ill. and now stands in the state of Indiana.
Jess Zoomin was campaigned during his racing career by Trainer Heath Taylor for Jess Zoomin Partners. After scoring four wins and receiving multiple Graded Stakes placed status, he retired with $461,126 on his card and moved to the stallion barn in Texas. Jess Zoomin, now 17, was acquired by the Myers and Cyrulik in 2016 and currently stands at West Central Veterinary Services in Rockville, Ind.
Since joining the stallion ranks in Indiana, Jess Zoomin has had several stakes placed runners including Jess Z Bob, Jess Bringin It On and Stormi Spirits. Many will be back in action at Horseshoe Indianapolis Tuesday, April 18 for the 21st season of racing. Myers pointed out that breeder Jerry Windham, a 2006 AQHA Hall of Fame inductee, worked through several generations to reach the level of success with Jes An Angel.
Jes An Angel was crowned AQHA Champion Two-Year-Old Filly of the Year.
© Ernesto Salinas, Jr. / StallioneSearch
"The amazing thing is, Jes An Angel represents multiple generations of breeding for Mr Windham," explained Teresa. "He bred and raced Jess Zoomin, his dam Jess An Illusion and raced his second dam Indigo Illusion (2012 AQHA Hall of Fame Inductee) on the sire's side. On the dam's side, he bred and raced Jes An Angel's dam Ms Kates Angel and bred and raced her second dam Jennifer Kate."
Jess Zoomin was already a multiple graded stakes sire before relocating to Indiana. He produced 2018 AQHA Distance Champion Zoomin Racer and now adds 2022 AQHA Champion Two Year Old Filly Jes An Angel to his impressive list of standouts. In total, his foals have earned more than $4 million.
The latest success story for Jess Zoomin, Jes An Angel, took the Quarter Horse racing world by storm this season, winning seven of 11 starts and more than $319,000 en route to becoming the sport's top freshman filly.
The connections of Jess Zoomin are also working on producing champions with their stallion. They, too, have generations of dams and foals with hopes of achieving the kind of success years of patience and persistence leads to.
"Breeding is a long-term investment," added Teresa. "Although Mr Windham has had many other success stories, this is one that took decades to come to fruition. We hope to achieve success in Indiana and have worked to improve our broodmare band to give Jess Zoomin the best opportunity as a sire. We feel very blessed and thankful to be a part of his continued success story."
* * * * * * * * * * * * * * *
The 21st season of live Thoroughbred and Quarter Horse racing will resume Tuesday, April 18 for a 123-day meet. The season extends through Friday, Nov. 17. Live racing will be held Monday through Wednesday at 2:30 p.m. with Thursday post time set for 2:10 p.m.
Saturday racing will be held during the summer months featuring six all-Quarter Horse dates June 3, July 1, July 22, Aug. 12, Sept. 2, and Oct. 7 beginning at 10:45 a.m. Indiana's featured event, the Grade 3 $300,000 Indiana Derby is set for Saturday, July 8 with a first post time of 12 p.m.
For more information on live racing at Horseshoe Indianapolis, visit www.caesars.com/horseshoe-indianapolis.
About Indiana Horse Racing
Indiana Horse racing has been included at the county fair level since the late 1800s. Racing for equine athletes has been a staple at the Indiana State Fair annually since the 1930s. The implementation of pari-mutuel racing to the state in 1994 has increased the participation and development of breeding and racing programs in the state. Standardbred racing is now held annually for a 160-day racing meet at Harrah's Hoosier Park in Anderson with all Thoroughbred and Quarter Horse racing held at Horseshoe Indianapolis in Shelbyville for a 123-day season. Additionally, county fair racing is conducted at locations throughout the state from June until October, showcasing the Standardbred breed in additional venues. Horses associated with racing are located in all 92 counties of Indiana.