RACING THIS WEEK
FEATURES
SERVICES
Bob Moore Farms announced 2023 ICSI breeding are available to leading sire Hes Relenteless.

© Amanda Glidden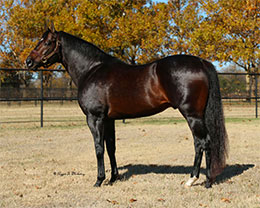 2023 ICSI Breedings Available To All American Sire Hes Relentelss
NORMAN, OK–JANUARY 31, 2023–Bob Moore Farm's announced today they will now offer ICSI breeding to their 2022 AQHA Racing Chapion sire Hes Relentless for rest of the 2023 breeding season. Last week it was reported that the 2022 All American Futurity sire's "live cover" book was full.
Breeders who still want to breed this season can pay an ICSI Booking Fee of $1250 (non-refundable). The $11,250 balance will be due at 45 day heartbeat.
From five crops to reach racing age the 2022 #3 Leading Sire of 2-Year-Old Money Earners has sired 187 winners (63%), 107 black type (24%), earner of nearly $11 million with average earnings per starter of more than $37,100.
Champion Hes Relentless' top performers include AQHA Racing Champion 2-Year-Old and 2-Year-Old Colt Hes Judgeandjury SI 98 (5 wins at 2, 2022$1,931,167 All American Futurity-G1, Los Alamitos Two Million Futurity-G1, Ruidoso Futurity-G1, etc.), Hes Innocent SI 98 (8 wins to 3, $358,134 1st-Firecracker Futurity-G2, 1st-Firecracker Derby-G3, Texas Classic Juvenile S., etc.), Determined One SI 96 (4 wins to 3, $352,545 3rd-All American Futurity-G1, etc.), Relentlessly SI 104 (8 wins to 4, $343,743 Heritage Place Derby-G2, etc.), Dreamsville SI 98 (5 wins to 3, $274,577 Remington Park Oklahoma Bred Derby-G2, etc.), Relentless Dynasty SI 101 (2 wins to 2, $247,256 TQHA Sale Futurity-G2, 3rd-Evangeline Downs Futurity-G3, etc.), etc.
For additional information for breeding contracts calll (405) 329-8571 (office) for detail.