RACING THIS WEEK
FEATURES
SERVICES
Breeders have until noon today (CST), January 27, to get their bids in for services from the OQHRA Stallion Service Auction.

© OQHRA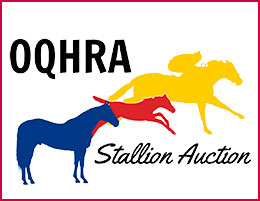 OQHRA Stallion Service Auction Closes at Noon (CST) Today
OKLAHOMA CITY, OK—JANUARY 27, 2023—The OQHRA Stallion Service Auction ends at noon (CST) today (Jan 27). Breeders who haven't put your bid in for stallion of their choice, now is the time to CLICK HERE.
If you place a bid within 5 minute of the auction ending, that stallion will stay open for at least 5 more minutes. Once there have not been any bids on that stallion for 5 minutes that stallion will close.
"We have some of the last breedings available for select studs for 2023," OQHRA Director of Member Services Courtney Barnett said.
For questions contact Courtney at 405-216-0440 or courtney.b@oqhra.com.