RACING THIS WEEK
Additional Challenges

Current Nominees and Sustaining Payments
FEATURES
SERVICES
Champion Lynnder 16 was among the horses to help Jason Olmstead earn the Wrangler Champion Trainer award.

© AQHA / Richard Chamberlin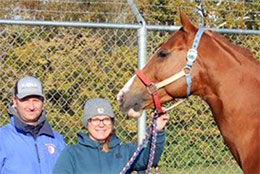 Charles Stojan, Bobby D. Cox, Jason Olmstead And Edwin Escobedo Earn Year-End Challenge Awards
SHELBYVILLE, IN–NOVEMBER 7, 2022–Four horsemen were rewarded for their dedication to the Bank of America Challenge program in 2022 with year-end top horsemen awards.
The 2022 John Deere Champion Owner is Charles G. Stojan of Grand Prairie, Alberta. A past winner, Stojan campaigned horses such as Bank of America Evergreen Championship Challenge winner Flight Club. He earned 59 points, defeating the ownership team of Tom Maher and Dick Tobin by eight points, the tightest division of the year, and earned himself John Deere product and a custom buckle.
AQHA Champion Breeder Bobby D. Cox continued his dominance as a breeder, with a win in the Nutrena Champion Breeder category, as he earned 93 points, 21 points ahead of another top breeder, Dr. Steve Burns.
Based in Fort Worth, Texas, Cox receives cash and a custom buckle.
AQHA Champion Trainer Jason Olmstead earned a consecutive winner of the Wrangler Champion Trainer award, earning 164 points. He saddled winners such as Apollitical Hero and Lynnder 16, among other top horses. As the winner, he receives cash and a custom buckle.
Jockey Edwin Escobedo is also a consecutive winner, and earned 93 points during the Challenge season, besting the Nutrena Champion Jockey category while riding horses such as champion Lynnder 16. He earned cash and a custom buckle.

AQHA News and information is a service of the American Quarter Horse Association. For more news and information, follow @AQHA Racing on Twitter and on Instagram, "like" Q-Racing on Facebook, and visit www.aqha.com/racing.