RACING THIS WEEK
FEATURES
SERVICES
Reigning world champion Empressum, under jockey Rodrigo Vallejo, setting the fastest time for the Grade 1 Brad McKinzie Los Alamitos Winter Championship Sunday night at Los Alamitos Race Course.

© William Zuazo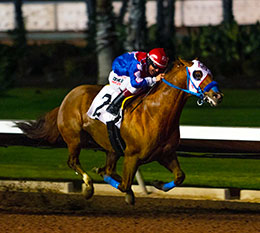 World Champion Empressum Wins 2023 Debut, Tops Trials To Brad McKinzie Los Al Winter Championship
LOS ALAMITOS' CA—JANUARY 29, 2023— It was not easy, but Steve Holt and Jeff Jones' Empressum, the newly crowned AQHA World Champion and PCQHRA Horse of the Year, won his 2023 debut thanks to a big time finish in the first of two trials to the Grade 1, $144,950 Brad McKinzie Los Alamitos Winter Championship here on Sunday night.
The 5-year-old gelding by Apollitical Jess was last at the start of his 400-yard trial, trailing the always sharp Scoops Dynasty by a length after breaking slow and towards the inside and getting bumped at about 75 yards into the race.
Empressum shook off the contact, set his sights on Scoops Dynasty and moved into a higher gear. Once he got rolling, Empressum closed Scoops Dynasty's lead to ¾ lengths with still 180 yards to go in the race and from there he was closer and closer to the multiple graded derby winner with each stride.
The two were on par as they entered the red zone of the inner rail and from there it was just a matter as to which of the two would get the final head bob to the wire. After the phone finish sign faded from the toteboard, it was Empressum who had come away as the victor.
The Oklahoma-bred gelding covered the distance in a time of :19.472 and as has become the norm for him at Los Alamitos, his final 220-yard time was an excellent one of :09.360.
Ridden by Rodrigo Sigala Vallejo for AQHA champion trainer Heath Taylor, Empressum was picking up his 18th victory from 24 starts and his earnings of $5,500 for winning the trial elevated his career tally to $1,625,525.
"We went back and forth, back and forth for about three weeks you know on whether or not we would start the horse here or give him a break after the Champion of Champions or turn him out," Taylor said. "Of course, you know, it's a stellar field and a lot of great horses. In this level, there is no easy races whatsoever. Scoops Dynasty is a (heck) of a horse. He won every race last year except for one and looked as good as anything here several times so respect to the other competitors for sure. We were lucky enough to get a trial win. (Vallejo) said that he kind of lost focus or kind of just looked away a little bit. He didn't break any whatsoever. It's the worst he's ever broke. He said he was beat a full length as soon as he hit the ground. He said he warmed up good, felt good and finished good. He'll have to get back to his 'A' game to win the final."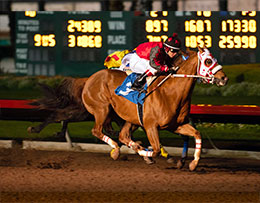 Multiple Grade 1 winner Apollitical Pence dominated the second trial to the Brad McKinzie Los Alamitos Winter Championship(G1) Sunday night.
© William Zuazo
Empressum was on his 'A' game all year long during his 2022 campaign. He won four of his five starts at Los Alamitos last year, which included Grade 1 victories in the Champion of Champions, Vessels Maturity and Go Man Go Handicap.
The only horse to defeat him at Los Alamitos was Dunn Ranch's Apollitical Pence when the two met in the Grade 1 Robert Boniface Los Alamitos Winter Championship. Empressum evened up the score in the Champion of Champions, which means that round three of their rivalry will come in the Brad McKinzie final to be held here on Sunday, February 19.
While Empressum faced a heavy challenge in his trial, Apollitical Pence led the other Brad McKinzie from start to finish. The winner of the Brad McKinzie last year, Apollitical Pence led by 1 ¼ lengths at the start and continued strongly every yard from there while crossing the finish line ½ length ahead of S-Quarter K LLC, Robyn Gordon, and Juan Moya's Dasha Dynasty.
Ridden by Armando Cervantes for trainer Monty Arrossa, Apollitical Pence covered the distance in :19.617. The two-time Champion of Champions winner improved to 18 wins from 36 starts while increasing his career bankroll to $1,714,735.
The 7-year-old gelding will be going after his 11th career stakes win at Los Alamitos, a figure that would tie him with BH Lisas Boy, Chingaderos, and Native Empress for ninth place in the all-time list of stakes winners at the Orange County track.
"He's pretty amazing," Arrossa said. "The horse just loves to run, loves his job, loves to come out there. He's super classy. He gave me a little hop start today it looked like at the gate, but he finished strong. He ran great. We'll probably stay with the same program (preparing him for this final). It seems that as he gets a little older, he needs to be fresh. He likes to run fresh. I was happy that Armando didn't use him all that hard in the trial. Hopefully we have something left in the final. It'll be a tough final. It's a nice group of horses."
For a complete list of Brad McKinzie Los Alamitos Winter Championship finalists with times' sires' dams' owners' breeders' trainers and jockeys CLICK HERE.
* * * * * * * * * * * * * *
For more info' please contact larace@losalamitos.com. Follow us on Twitter or Instagram at @losalracing or visit us online at www.losalamitos.com.