RACING THIS WEEK
FEATURES
SERVICES
Ghost Witha Fire' under jockey Armando Cervantes' setting the fastest time in the Grade 1 $183'350 Los Alamitos Winter Derby Saturday at Los Alamitos Race Course.

© William Zuazo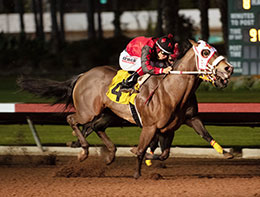 Stablemates Ghost Witha Fire' Take A Swig Of This Top Winter Derby Trials
LOS ALAMITOS' CA—JANUARY 28, 2023— Dunn Ranch's talented duo of Ghost Witha Fire and Take A Swig Of This' a pair of A Revenant geldings' dominated their respective trials to the Grade 1' $183'350 Los Alamitos Winter Derby while posting the two fastest times of the night here on Saturday night.
Ghost Witha Fire' a gelding by A Revenant' scored his second straight win at Los Alamitos' as he was flying out of the gate to open a 1/2 length lead early on. Ridden by Armando Cervantes for trainer Monty Arrossa' Ghost Witha Fire continued to disappear from his rivals sights' extending his lead to1 1/2 lengths and eventually making his advantage hold to the wire.
Bred in Texas by Johnny Trotter' Ghost Witha Fire covered the 400 yards in :19.581. He will lead a field of 10 that will return here for the Winter Derby final on Saturday' February 18.
Ghost Witha Fire has been a terror for his rivals in his last two outings. Prior to this trial victory' he posted a 3/4 length win in his trial to the Grade 1 Golden State Million Futurity.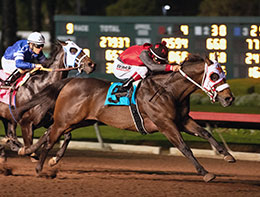 Take A Swig Of This, under jockey Armando Carvantes, drives to the second fastest qualifying time on trial two on Saturday night.
© William Zuazo
"Ghost has been a little slow to get going'" Arrossa began. "We had a few little issues with him early at Ruidoso. We brought him over here to Los Alamitos and he likes the track here. He's adapted really well. He ran a great race in the Golden State trials and then had an abscess in his hind foot. We missed the Los Alamitos Two Million trials with him. He put an excellent work here about three weeks. We were hoping he would come back and run to that form. He ran a nice race tonight and I was really proud."
The brown gelding has finished in the money in all six of his career starts. His stablemate' Take A Swig Of This' was also impressive' winning the second of three trials by 3/4 lengths while recording the second fastest qualifying time of :19.733. Arrossa and Cervantes teamed up for the win with the Weetona Stanley-bred runner.
His winning effort was a welcomed sight for his connections since he had previously run fifth in his local debut on December 31.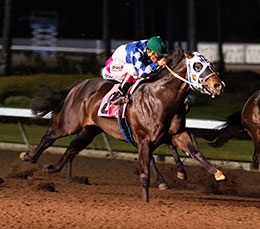 Interesting Eagle, under jockey Cruz Mendez, qualifying in the closing trial on Saturday night.
© William Zuazo
"He had a really rough trip that night'" Arrossa explained. "It was raining and when the gate opened' he slipped terrible. Armando did a good job picking him up and just saving him and getting him down through there. We talked about it tonight. We loved our post position' and he couldn't have drawn any better. He broke super tonight and ran strong. He needed the race."
Take A Swig Of This arrived to Southern California with a major accolade already on his resume after finishing second in the Grade 1 Heritage Place Futurity at Ruidoso Downs. Take A Swig Of This missed winning the million dollar race by only nose behind Tres Crystals in the May 28 event at Remington Park.
The final trial went to Steve Burns' Guadalupe Bujanda' and Jose Flores' Interesting Eagle' who held off PCQHRA Breeders Futurity winner Chicks First Flash by a head. Interesting Eagle won the race in a time of :20.053' fast enough to earn him the ninth fastest qualifying time. This was his third victory in 10 career starts.
Chicks First Flash' also trained by Monty Arrossa' did advance to the final with the 10th fastest time. He is owned by Five Livestock Company and Steve Wright. Five Livestock bred the Idaho-bred gelding by First Moonflash.
The opening trial was by far the most productive of the night' as six of the 10 qualifiers were part of the first trial. In addition to Ghost Witha Fire' Good Wagon SA' Dont Sass KVN' Hes Chickless' Hay Shaker' and Jettin Gigi all qualified from this trial. Good Wagon SA and Hay Shaker both entered the trials after running the Two Million final last year.
For a complete list of Los Alamitos Winter Derby(G1) finalists with times' sires' dams' owners' breeders' trainers and jockeys CLICK HERE.
* * * * * * * * * * * * * *
For more info' please contact larace@losalamitos.com. Follow us on Twitter or Instagram at @losalracing or visit us online at www.losalamitos.com.