RACING THIS WEEK
FEATURES
SERVICES
Heza Dasha Fire, under Cruz Mendez, easily winning the Champion of Champions(G1) at Los Alamitos Race Course.

© Scott Martinez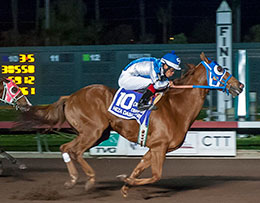 Heza Dasha Fire Completes Perfect Season With Champion Of Champions Win
LOS ALAMITOS, CA— DECEMBER 13, 2015—
S-Quarter K LLC's Heza Dasha Fire completed an undefeated sophomore campaign with an impressive daylight victory in the Grade 1, $600,000 Champion of Champions on Saturday (Dec. 12) at Los Alamitos.
There was no denying Heza Dasha Fire in the Champion of Champions, as the Walk Thru Fire gelding took the lead shortly after the start and he maintained a comfortable lead from there while holding off Ron Hartley's terrific Moonist by a 1¼ -lengths and in a time of :21.204.
Dashin Brown Streak, racing for the Estate of C.W. Navarre and Melvin Hatley, finished in third place, 3½-lengths behind Heza Dasha Fire. French Fury, the 100-1 longshot, finished fourth, and was followed by Far Niente, Quirky, Seperate Interest, Well And Good, Solid Connection and Rock You.
Ridden by Cruz Mendez for trainer Jose Flores, Heza Dasha Fire's victory was his fifth in as many starts this season and his 11th in 12 career starts. He earned $300,000 for winning the Champion of Champions to push his career earnings to $1,689,388.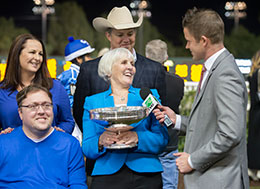 The Meneelys with AQHA Executive Vice President Craig Huffhines Craig.
© Scott Martinez
Bred in Washington by his owners, the 2014 champion 2-year-old gelding also picked up his third graded stakes win of the year. He had previously won the Grade 2 Golden State Derby and the Grade 1 Los Alamitos Super Derby prior to his convincing victory in the Champion of Champions. Leaving the gate from the outside post 10, Heza Dasha Fire paid $3.20 for the win, tying him for the fourth lowest win payout of the season.
"He did it," said owner Kathy Meneely of S-Quarter K. "You'll have to tie a string to my ankle to hold me down. Maybe his win in the Golden State Million Futurity last year was more impressive because he got pinged-ponged at the start and he still came back to finish first, but the feeling for winning the Champion of Champions will be hard to top for me. He also did it against a tougher bunch of horses. There were no slouches out there and Cruz never even had to go to the whip. He never touched him."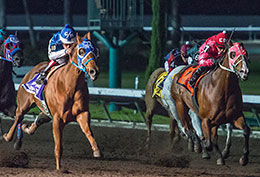 Champions Heza Dasha Fire (left) and Moonist (right) square off in Saturday's Champion of Champions(G1).
© Scott Martinez
For Don, Kathy and Shawn Meneely, this Champions weekend at Los Alamitos was a form of vindication for their horse.
"He had a post position that we loved and there was no rain so I was happy about that coming into the race," Kathy said. "It was a fabulous race and everyone had a safe trip. As soon as he crossed the wire, I said 'He did it!' I just felt like everything he's done was validated, particularly after he lost in the Two Million on this weekend last year."
Running fourth to He Looks Hot in last year's Two Million is the only blemish in Heza Dasha Fire's record. Out of the mare Dasha Fred by Mr Jess Perry, Heza Dasha Fire won the Grade 1 Ed Burke Million Futurity and Grade 1 Golden State Million Futurity last year to add to his three aforementioned graded stakes races this year.
"This was a very important race for us and for Heza Dasha Fire," Don added. "I thought we could win this race, but never did I think he would win by daylight. That was the most amazing part of it. I'm a retired schoolteacher and sports coach and when I retired I told my family, 'hey, here's this money and that's for the horses. Whatever the horses make, it's for the horses and if this money is gone, then it's gone and that's it.' It was a good plan until Heza Dasha Fire. He's made over a million dollars and whenever I try to get a little money from there, they tell, 'Oh no you don't. You said this money is for the horses.' I messed that up," he added with a laugh.
Trainer Jose Flores congratulates jockey Cruz Mendez Saturday night.
© Scott Martinez
The only 3-year-old in the race, Heza Dasha Fire got it right on the track on Champion of Champions night. His performance on the track was perfect and it came under the biggest spotlight of his career and in his 440-yard racing debut.
"He warmed up pretty good," Cruz Mendez said. "When we were going in the starting gates, he felt great. We had a pretty good start out of the gate. I could see the other horses about 50 yards into the race, but at about 100 yards into the race we were on the lead and I thought to myself, 'We're going good.' He was going strong, but he finished even stronger."
Mendez and Jose Flores teamed up to win the Los Alamitos Two Million with Matabari in 2012 and now they were together again to score their first Champion of Champions victory.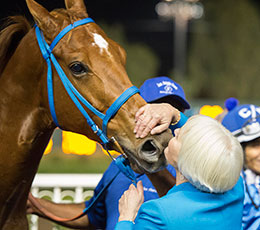 Owner Kathy Meneely gives Heza Dasha Fire a congratulatory kiss.
© Scott Martinez
"Nothing can top this win," Flores said. "This is my All American, my Kentucky Derby. This is the biggest race at my home track and a race I've dreamed of winning for a long time. Heza Dasha Fire is a mellow horse and always calm at the barn, but he can also be tough to train at times, but he's so, so fast that, on the other hand, it makes him pretty easy to train. We call him 'The Avion' (The Jet) around the barn. Everyone in the barn loves and takes care of him. When he came out here, he was on his toes. He is just a beautiful horse."
Heza Dasha Fire's bloodlines overflow with the influence of the great, late breeder Robert Gentry. Gentry bred Heza Dasha Fire's mother, Dasha Freda, a winner of $112,000 while racing for S-Quarter K LLC during her entire racing career. Dasha Freda is a full sister to champion Fredricksburg and champion Fredaville. The female family includes the Grade 1 winners Fearless Freda and Such An Easy Effort and champion Deelish, which ran second to the great A Ransom in the 2000 Champion of Champions.
Heza Dasha Fire's sire, Walk Thru Fire, has now sired the last two Champion of Champions winners (he is also the sire of prior winner Last To Fire). Walk Thru Fire is also the sire of last year's Los Alamitos Two Million winner He Looks Hot in the only race that Heza Dasha Fire has lost, plus he's also the sire of millionaire Higher Fire and Grade 1 winners Hot Hitter, Jess Walking Thru, Walk Thru Crystal, DM Streakn Thru Fire, Separate Fire, This Party Is On Fire, etc.
"I'm so thankful that Don, Kathy and Shawn gave me the opportunity to train their horses," Flores said. "When Don told me 'You have my trust,' that was a huge thing for me. We've worked great together."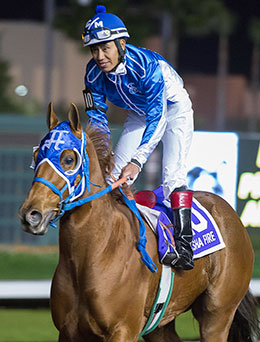 Jockey Cruz Mendez returns aboard 2015 Champions of Champions(G1) winner Heza Dasha Fire
© Scott Martinez
"You should see how Jose and his team baby our horses," Kathy added with a smile. "I can tell that Heza Dasha Fire loves his groom. As an owner, these horses are my babies and I also live in Washington. It's great to know that my horses are being taken care of and babied as much as they are."
S-Quarter K LLC and Flores will soon start mapping a plan of attack for 2016 with the dream and the goal of reaching the Champion of Champions once again.
"He is paid into the Los Alamitos Winter Championship with the trials in late January," she added. "We'll see how he comes back, but we're looking at that race for sure. Then he'll have time off. We might also skip the Winter Championship and just give him some rest and wait until around the Vessels Maturity trials. The great thing about the Winter Championship is that it carries a berth to the Champion of Champions, so we'll see how he does. Either way, we will give him some time off. He deserves it. He's an amazing baby and he's my baby."
No horse has won back-to-back runnings of the Champion of Champions since the two-time World Champion SLM Big Daddy in 1997-98.
Ridden by Cesar De Alba for trainer John Cooper, champion Moonist earned $96,000 to take his career earnings to $802,194. In his 30th career start, Moonist has won 20 races, 11 of them stakes races, while running second in four other outings.
"I can't knock that trip," Cooper said. "We got outrun. I can live with it. That horse of Flores just went 440 yards in :21.20. There's no shame in running second to a horse like that. That horse is just a fast horse and being younger didn't hurt him."
Vessels Stallion Farm, LLC bred the 4-year-old son of Separatist from the champion First Down Dash mare Your First Moon.
Trained by Paul Jones and ridden by Quarter Horse racing's all-time leading rider G.R. Carter, Dashin Brown Streak ran a strong race from start to finish to earn $60,000 for his game third place finish in his Los Alamitos debut. A two-time Grade 1 winner in 2015, Dashin Brown Streak has earned $501,658 in his 23-race career.
Hatley was looking to be a part of his second Champion of Champions winner. He was part of the ownership of Mr. Jet Moore, the first ever winner of the Champion of Champions in 1972.
Flat Get It Farm, Inc. bred the 5-year-old Hotdoggin gelding out of Annas Streakin Dash, by Streakin La Jolla.
* * * * * * * * * * * * * * * *
Fifth place finisher Far Niente will be back racing for his 6-year-old season in 2016. "He runs great fresh, so we'll see when we'll run him again," said trainer Jose Hernandez, Jr. "We could go in the Winter Championship, but we're thinking of bringing him back for the Vessels Maturity and try to win that race for a third straight time."
* * * * * * * * * * * * * * * *
Ed Allred's Quirky was the top place mare in the Champion of Champions after crossing the wire in sixth place. "I have no complaints," said trainer James Glenn, Jr. "She ran her race. If you take away the top two finishers and she's not that far away from some pretty good horses. Hopefully she's recognized for her campaigned at the year-end awards."
Quirky wraps up the year with four wins in five starts with all four of her victories coming in stakes races. "We are thinking running her again in 2016. Dr. Allred said, 'If she's doing great, we can run her again. The Charger Bar Handicap is on January 3 and then we can give her some time off and get some embryos out of her like we did last year." Eulices Gomez, who had ridden Quirky in the past, piloted her in place of the injured Carlos Huerta in the Champion of Champions. Joe Badilla Jr. piloted Allred's Well And Good in this race.
Courtesy of www.losalamitos.com.