RACING THIS WEEK
FEATURES
SERVICES
The track's Thoroughbred and Quarter Horse meet runs through May 5, 2019.

© Coady Photography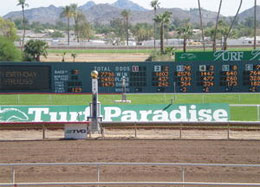 Turf Paradise Opens 131-Day Season on Saturday
PHOENIX, AZ—OCTOBER 11, 2018—
Turf Paradise in Phoenix, Arizona, opens its 2018-19 season on Saturday. The 131-day meet, which features Thoroughbred and Quarter Horse racing, runs through May 5, 2019.
Robbie Junk is Turf Paradise's new racing secretary, though the veteran racing official is no stranger to the track, as he served in that post in 2000. Junk has since served as racing secretary at Canterbury Park in Minnesota and Sunland Park in New Mexico.
Turf Paradise will offer a new Pick-6 wager. Dubbed the "Grand Canyon Pick-6," the wager has a 20-cent minimum bet and is identical to a traditional Pick-6, except that the entire pool will be paid out only when there is a single winning ticket. Consolation payoffs will be made if more than one person hits all six or if there are no perfect tickets. The wager will be seeded with a $25,000 pool on opening day.
Racing will be held primarily on a Saturday-through-Wednesday schedule, with gates opening at 11 a.m. and first post at 12:55. Grandstand admission is $3, clubhouse and turf club admission is $5, and general parking is free.
Turf Paradise general manager Vincent Francia said that the track expects to host 1,800 horses in its stable area.
Turf Paradise's Quarter Horse stakes schedule is topped by the 300-yard, $60,000-est. Desert Classic Futurity on April 28, 2019. On that date, the track is also scheduled to host three Bank of America Racing Challenge regional finals, topped by the 440-yard, $55,000-added Bank of America Turf Paradise Championship Challenge.
For more information on the Turf Paradise meet, visit the track's website.