RACING THIS WEEK
FEATURES
SERVICES
The Ruidoso Select Yearling Sale will pickup on Saturday at 3:00 p.m. (MDT) with Hip 51.

© Ruidoso Horse Sale Company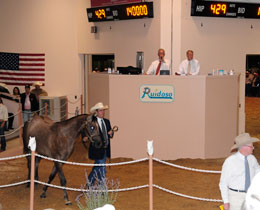 Power Outage Delays Completion of Opening Night Session at Ruidoso Select Sale - UPDATED
RUIDOSO DOWNS, NM—SEPTEMBER 1, 2017—
A city wide power outage on Friday night in Ruidoso Downs caused the Ruidoso Horse Sale Company to postpone their opening session after only 50 horses had gone through the ring.
The sale will pick-up again on Saturday at 4:40 PM (MDT) with Hip 51. The sale company will continue through the catalog's opening session horses (Hip 144), then go straight into Saturday's session, Hips 145 thru 288.
Sunday's closing session, Hips 289 thru 432, will not change and will start shortly after the final race on Sunday's card at Ruidoso Downs Racetrack.
For additional information contact the Ruidoso Horse Sale Company at 575.378.4474.
Sale results will be posted on StallioneSerach.com as soon as they become available from the sale company.