Monday, May 20, 2013
Member Stallion Search
Native Tea Rose, a $330,000 Ruidoso Select Sale graduate, qualifying to the $2.4 million All American Futurity at Ruidoso Downs.

Ruidoso Downs Photo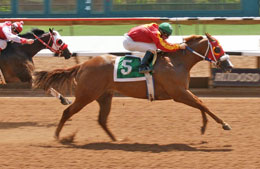 Ruidoso Select Yearling Sale Graduates Dominate All American Futurity Trials
RUIDOSO DOWNS, NM—AUGUST 19, 2012—
The odds are that if you were looking for a prospect to race in Labor Day's Grade 1, $2,400,000 All American Futurity that you could have found that horse at last year's Ruidoso Select Yearling Sale.
Of the 10 qualifiers to the 440-yard dash with the winner earning $1,200,000, seven of the horses are graduates of last year's sale.
This year's offering of 437 yearlings will be held after the races at Ruidoso Downs on August 31 through September 3.
The All American Futurity qualifiers and their final bid were Native Tea Rose ($330,000), Krash Cartel ($72,000), One Dashing Eagle ($43,000), Jess A Zoomin ($35,000), Aha Moment ($29,000), Mr Perry Cartel ($17,000) and the biggest bargain was Sudden Thoughts ($14,000).
Last year's sale averaged $44,026, up from $35,048 in 2010.
The All American Futurity is the world's richest quarter horse race and has the highest purse of any two-year-old horserace in North America, regardless of breed. It is held on Labor Day, closing day of the summer racing season at Ruidoso Downs, and is one of the most attended sporting events in New Mexico with more than 20,000 fans every year.
In the Grade 1, $2,234,539 All American Derby there are six 2010 Ruidoso Select Yearling Sale graduates. They are Hez Our Secret ($110,000), Lotta Love For Robyn ($80,000), Bills Last ($47,000), Linda Tee Fire ($30,000), Eyein This Feature ($26,000) and Ochoa ($25,000).
Ochoa is one the all-time great bargains. He has earned $1,645,736 and will pick up another $938,506 if he can win the All American Derby. That would raise his career earnings to $2,584,242 and he would become the all-time leading money-earning quarter horse.
The All American Derby, held on the Sunday before Labor Day, is the richest quarter horse race for three-year-old and older quarter horses. It has a higher purse than any of the thoroughbred Triple Crown races – the Kentucky Derby, the Preakness and the Belmont Stakes.
For more information, go to www.raceruidoso.com and follow Ruidoso Press Box (@RuiPressBox) on Twitter.