Wednesday, May 22, 2013
Member Stallion Search
Overnight purses have been increased at Los Alamitos Race Course for 3-year-olds and upward Quarter Horses competing at 350 yards or more.

Los Alamitos Race Course Photo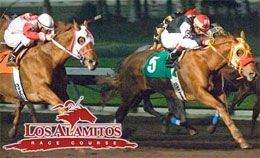 Purses Raised For Longer Quarter Horse Races At Los Alamitos
LOS ALAMITOS, CA—JULY 30, 2012—
Effective with the Los Alamitos racing program on Friday, August 3, overnight purses have been increased by $1,000 per race for 3-year-olds and upward Quarter Horses competing at 350 yards or more.
"Los Alamitos Race Course management in meeting with the Pacific Coast Quarter Horse Racing Association felt this step would encourage races that are closer in length to the Quarter Horse breed's classic 440-yard distance," said Ron Church, the racing secretary at Los Alamitos Race Course.
"Quarter Horse breeders have spent many generations breeding to achieve excellence at this distance and the blood lines of these great equine athletes relish the longer sprints. Our Quarter Horse stakes schedule is mostly made up of stakes races contested at 350 yards or more so having more overnight races at 350, 400 and 440 yards should also benefit horses that are prepping for stakes races at Los Alamitos."
In conjunction with the $1,000 increase for races at 350 yards or more, Los Alamitos has lowered its purses by $500 per race for 3-year-old and upward Quarter Horses racing at 300 yards or less. This change will also go into effect with the program on Friday, August 3.
"It's important to note that in no case will any overnight Quarter Horse purse for 3-year-olds and upward at Los Alamitos be under $5,000," Church added.
Races for 2-year-old Quarter Horses are not affected by these changes. For more info, please call the Los Alamitos Racing Office at 714-820-2788.