Wednesday, May 22, 2013
Member Stallion Search
Jockey Isaias Enriquez scored is 1,000th win when in the seventh race aboard Sandia Sonata at Ruidoso Downs on Monday afternoon.

Ruidoso Downs Photo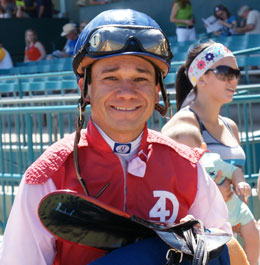 Isaias Enriquez Scores 1,000th win At Ruidoso Downs On Monday Afternoon
RUIDOSO DOWNS, NM—JUNE 18, 2012—
Jockey Isaias Enriquez reached the 1,000-win milestone when he won the seventh race aboard Sandia Sonata at Ruidoso Downs on Monday afternoon in gate-to-wire fashion.
"It's great. I thought I might be getting close (to 1,000 wins) a couple of months ago and my wife looked it up. I was about 10 or 11 wins away and then I sorta forgot about it until this weekend when I went to Arapahoe Park," Enriquez said leaving the winner's circle.
Enriquez posted his 999th win when he won the $40,000 Molly Brown Stakes at Arapahoe Park near Denver on Sunday afternoon on Came West, who had won the $50,000 First Lady Stakes at Ruidoso Downs in her previous start.
"I was thinking that I was one win away and sometimes it takes a while to get the next win," he said. It didn't take long, about 24 hours. He had five mounts at Ruidoso Downs on Monday and connected with his third ride of the afternoon.
"I had a perfect trip. She's a really nice filly," he said. The five-and-one-half furlong allowance race carried a $19,000 purse for New Mexico-bred fillies and mares.
Enriquez, 38, has been race riding for 20 years and his career began at Turf Paradise. He is currently second in the thoroughbred jockey standings at Ruidoso Downs.