RACING THIS WEEK
FEATURES
SERVICES
The Fiscal Cliff winning the Grade 1 $345,000 Bank of America Challenge Championship.

© Coady Photography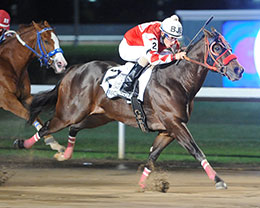 Champion The Fiscal Cliff, Grade 1 Winner Bf Farm Boss To Hart Farms Texas Division
CELINA, TX–AUGUST 23 , 2022—Hart Farm's Texas Division announced today that AQHA Racing Champion The Fiscal Cliff SI 109 and stakes sire Bf Farm Boss will stand the 2023 season at their new farm in Celina, Texas.
The Fiscal Cliff's fee has been set at $2,500 and Bf Farm Boss will be announced later. The two stallions will join the Hart Farms stallion roster that includes stakes winner and G1-placed Ali Babe Foose and barrel stallion Chasin Misty.

Hart Farms-Texas will offer "shippped semen only" for its stallion roster. Breeders within a 150 mile radius of the Celina Texas operation can have semen deliverd by the "Hart Farms Express".

Both Hart Farms-Texas and Hart Farms-Georgia will offer horses for sale and a truck and trailer will make weekly trips between the two establishements. Watch for additional stallions to be added to the Hart Farms-Texas roster soon.
* * * * * * * * * * * * * * * * *
The Fiscal Cliff
From a limited number of starers The Fiscal Cliff has sired three winners from four starters. They include Prairie Meadows Gold Futurity finalist Double Didget SI 82 (winner at 2, 2022 $18,067), Rj Lets Get Fiscal (1 win in 1 start at 2, 2022, $14,588), Luis Litt SI 94 (Winner at 2, 2022 finalist Cherokee Nation Stakes), etc.
Bred and raced by Tom Lepic, The Fiscal Cliff won or placed in 22 of 26 career starts earning $580,425. He was named AQHA Racing's Champion Aged Stallion for 2017.
He won the Bank of America Challenge Championship(G1), Bob Moore Memorial Stakes(G2), Jim Bader Futurity, Iowa Double Gold Futurity, Polk County Derby, Heritage Place Juvenile Stakes, Bank of America Canterbury Park Championship Challenge and Skip Zimmerman Memorial Stakes.
Th Fiscal Cliff also placed in the Eastex Stakes(G3), Iowa Double Gold Derby, Ruidoso Derby Challenge, was third in the Prairie Meadows Championship Challenge(G2), Keokuk Stakes(G3), and a finalist to the Champion of Champions(G1) and Highesasterjet Handicap(G3).
The 8-time black type winner is the only champion son of leading sire Pyc Paint Your Wagon.
The Fiscal Cliff's biggest win came in the 2017 $345,000 Grade 1 Bank of Challenge Championship at Prairie Meadows, which he won by one-length over such runners as Grade 1 winners Ajs High and Mr Pyc To You.
The Fiscal Cliff's sire is multiple Grade 1 winner Pyc Paint Your Wagon SI 107 ($889,581), sire of 124 stakes winners, earners of nearly $38.9 million with average earnings per starter of more than $31,500.
Pyc Paint Your Wagon's top performers include Champion The Fiscal Cliff SI 109 (see above), Champion of Champions winner Mr Pyc To You SI 97 ($473,686), Heritage Place Derby(G3) winner Pyc Fun N Fancy SI 104 ($478,760), APHA World Champion Painted Turnpike-PT (26 wins, $465,442), Remington Park Oklahoma-Bred Futurity winner Im A Fancy Pyc SI 92 ($454,765), etc.
His dam is the multiple Grade 1 producing Shazoom mare Signs Zoomer SI 98 ($30,044-G2 finalist), dam of 12 ROM winners, 5 black type including Champion The Fiscal Cliff SI 109 (see above), Los Alamitos stakes winner and third-place finisher in the Grade 1 All American Futurity-G1 Wagon Tales SI 99 ($427,579), Prairie Meadows Distaff Challenge(G3) winner Polar Vortex SI 104 ($143,416), Grade 1-placed A Valiant Zoomer Si 95 ($69,567), Jeriko SI SI 84 (2 wins in 3 starts a 2, 2022, 3rd Rainbow QH Juvenile, finalist All American Juvenile (final 09/05/2023), etc.
The second dam, Stylish Sign SI 98 by Vital Sign, is the dam of 10 winners, 3 black type including the aforementioned mentioned Champion of Champions(G1) winner Mr Pyc To You SI 97 ($488,820), Oklahoma Futurity(G2) winner First Painted Sign SI 104 ($284,911), stakes winner Second Painted Sign SI 102 ($104,604), etc.
She is the granddam of Ruidoso Futurity(G1) winner First Valiant Sign ($1,053,844), Oklahoma-bred Derby(RG3) stakes winner and G1-placed A Tres Of Paint SI 98 ($509,184), Retama Park Derby Challenge winner A Painted Dynasty SI 101 ($249,982), Hobbs America Derby(G3) winner Apollitical Sign SI 94 ($141,173), Grace 3-placed A Tres Of Sign SI 94 ($143,096), etc.
* * * * * * * * * * * * * * * * *
BF Farm Boss
Currently the #6 Leading Third-Crop Sire of Money Earners, Bf Farm Boss has sired 19 winners, 1 stakes winner, 1stakes placed from a limited number of starters.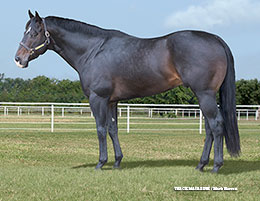 Bf Farm Boss
is a leading third-crop sire of 2022.
© Mark Herron/TRACK Magazine
Bf Farm Boss' top performers include multiple stakes winner Alotta Oh La La SI 98 (3 wins at 2, 2022, $81,855 Mystic Lake Northlands Futurity, MQHRA Stallion Auction Futurity [R] , etc.), Cd Son Of Farm Boss SI 96 (winner to 3, $10,727 2nd Five Livestock Company Rod Mills Memorial Derby), Farm Diamond Boss SI 88 (1 wins to 3, $50,893 etc.) Bf Bosslady SI 87 (2 wins to 2, $35,697, finalist Mardi Gras Futurity(RG2), etc.), Heza Farm Boss SI 89 (2 wins to 2, $24,070), etc.
Owned by a partnership. Bf Farm Boss won or placed in 12 of 18 career starts and earned $932,655. He won the Grade Ruidoso Derby and Grade 2 PCQHRA Breeders' Futurity. He was second in the Los Alamitos Two Million Futurity(G1) and third in the Los Alamitos Championship Challenge(G3).
The young stallion also qualified for the Ed Burke Million Futurity(G1), AQHA Challenge Championship(G1), Independence Day Handicap(G3) and Z Wayne Griffin Directors' Invitational-Div. 1.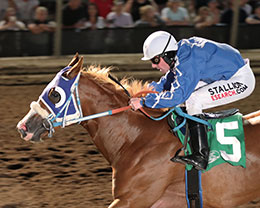 Alotta Oh La La winning the $105,100 Mystic Lake Northlands Futurity on August 10.
© Coady Photography
His sire is the AQHA Racing Champion Hawkinson SI 99 ($448,229), a son of all-time leading sire First Down Dash. Hawkinson has sired 35 stakes winners, 1 champion 381 winners with earnings in excess of $11.5 million.
His top performers include Strawkins SI 108 (champion twice, $614,156 USA, AQHA Challenge Championship-G1, etc.), Bf Farm Boss SI 97 (Grade 1 winner above), Sixish SI 114 ($530,505, PCQHRA Breeders Futurity-G1, etc.), Sparky E Boy SI 111 ($352,224, Los Alamitos Championship Challenge-G3, etc.), Bf Farm Boy SI 106 ($252,027, Two Rivers S.-G3, etc.), Startlet Hawk SI 110 ($250,714, Golden State Derby-G1, etc.), etc.
Bf Farm Boss' dam is the "blue hen" producer Shirleys Strawfly by Strawfly Special. She is the dam of 23 ROM, 1 champion, 7 black type winners, 3 black type-placed including two-time AQHA Racing champion Strawkins SI 108, a full sibling to Bf Farm Boss, (see above), Bf Farm Boss SI 97 (Grade 1 winner above), Grade 3 winner Summit Bid SI 106 ($94,625), stakes winner Mr Eye Will SI 107 ($57,173), stakes winner and G1-finalist Bf Farm Girl SI 85 ($42,270). stakes winner and G3-placed Raining Fresh Daisys SI 103 ($31,432), G2-placed Current Sea SI 91 ($85,425), stakes-placed and G1-finalist Spring Bling SI 102 ($48,631), stakes-placed Oc Girl SI 89 ($22,965) and stakes-placed Secretly Fast SI 96 ($11,944), etc.
* * * * * * * * * * * * * * * * *
For additional information or breeding contracts on both these young stallions call Hart Farms at (214) 675-5288 or Chad Hart at (706) 201-5648.