RACING THIS WEEK
FEATURES
SERVICES
Two-time PCQHRA Broodmare Of The Year Chicks Tell was laid to rest on October 22 at Burns Ranch in Menifee, California.

© Courtesy Burns Ranch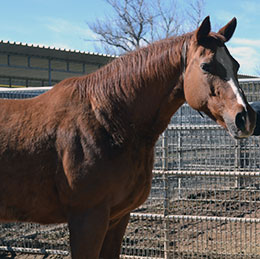 Two-Time PCQHRA Broodmare Of The Year Chicks Tell Dies
LOS ALAMITOS, CAóOCTOBER 31, 2021ó
The award-winning broodmare Chicks Tell, the dam of two-time AQHA champion
Tell Cartel
, has died at the age of 22 following health complications said owner Martha Wells.
She was laid to rest on October 22 at Burns Ranch in Menifee, California, which was her home during most of her remarkable and prolific career as a top producing Quarter Horse mare.
Bred by Blane Schvaneveldt and purchased by Wells at the 2000 PCQHRA Sale, Chicks Tell was a two-time winner of the James V.A. Carter Award given to Californiaís outstanding broodmare of the year.
She won the award for the first time in 2010 thanks to the exploits of multiple stakes winner Forrest Fire and Governorís Cup Futurity runner-up Tough To Tell. Sired by AQHA Hall of Fame stallion Chicks Beduino and the graded derby winner Tell The Boys No, Chicks Tell won the award for the second time 10 years later in 2020 thanks in large part to the achievements of the Grade 1 stakes winning colt Tell Cartel.
In her time as a broodmare, Chicks Tell produced 37 Quarter Horse foals of which 34 raced with 27 becoming winners. Her richest foal was Tell Cartel, as the colt by Favorite Cartel earned $796,386 while winning eight of 19 career starts.
Owned and bred by Wells, Tell Cartel won the Grade 1 Los Alamitos Super Derby, Grade 1 Los Alamitos Winter Derby, and Grade 3 El Primero Del AŮo Derby last year on the way to being named AQHA champion 3-year-old and AQHA champion 3-year-old colt. He was also recognized as the PCQHRA Horse of The Year in 2020.
Chicks Tell was also the dam of Superior Race Horse Forrest Fire, a four-time stakes winner and a career earner of $335,306 at Los Alamitos. The blue-hen mare also produced Blane Schvaneveldt Handicap winner Chicks Fayvorite ($140,248), Town Policy Handicap winner My Favorite Cartel ($89,454), and the stakes placed runners Fire By Night ($69,511), Fayvorite Chick ($71,708), and Red Hawk Chick ($25,890).
The latter would go on to produce (GI) Los Alamitos Winter Derby runner-up Red Hawk Cartel ($211,056), Champion of Champions finalist and Winter Derby runner-up Yanque ($164,961), and stakes winner Zendaya ($77,090).
"Chicks Tell became my best broodmare," said Wells, who was honored with the PCQHRA owner and breeder special achievement awards last year. "I kept breeding her to Walk Thru Fire as much as I could and eventually to Favorite Cartel. She spent most of her broodmare life at Burns Ranch. They did a wonderful job taking care of her throughout her entire life. She was there a long, long time and Burns Ranch did everything they could for her.
"When she won the 2010 Broodmare of the Year Award, I was so proud of her. Breeding is a tough business, but she made it a lot of fun. When I had to cut down my breeding operation, she remained with me. Most of her babies were winners. Whenever I would go Burns Ranch to check out the babies, I would make sure that I spent some time with her. She always looked good. Itís tough to lose her, but Iíll always remember her looking bright eyed and bushy tailed."
Chicks Tellís impact in Quarter Horse racing in California was on full display on the night of the El Primero last year, as her foals Tell Cartel and Fire By Night, finished first and third respectively, while her daughter Cozie Fire produced second place finisher Old School Icon.
On the racetrack, the Dan Francisco-trained Chicks Tell won four of 15 starts with earnings of $41,114. She qualified to the Grade 2, PCQHRA Breeders Derby in 2012 and finished in the top three in four stakes races. Her final career start was a victory in the Huntington Beach Handicap on December 21, 2012.
"She got kicked in her stifle while using the hot walker," Wells added. "That ended her racing career. She could have probably done a lot more on the track, but God has a plan for everything. Iím a complete believer of that. I still have a couple of weanlings out of her by Favorite Cartel. I also still have Forrest Fire at my home and of course, Tell Cartel, who has just started his stallion career. Iím so proud of him because heíll be able to carry on Chicks Tellís legacy through his babies. I think heíll be a wonderful stallion. He never acted studdy while in training. He was always a sweetheart. He was always sound. I believe heíll pass that on to his babies."
* * * * * * * * * * * * * *
For more info, please contact larace@losalamitos.com. Follow us on Twitter or Instagram at @losalracing or visit us online at www.losalamitos.com.