RACING THIS WEEK
FEATURES
SERVICES
The NDQHRA Stallion Service Auction closed at 6 p.m. Friday, January 31.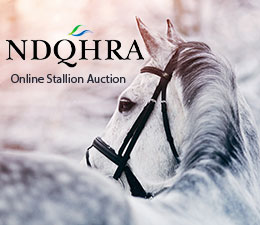 NDQHRA Stallion Service Auction Ends Friday
BISMARCK, NDóJANUARY 30, 2020ó
Horsemen and women have until 6 p.m. (CDT) Friday (Jan. 31) to get their bids in to purchase a 2020 breeding from the NDQHRA Stallion Service Auction.
Fifty-three leading sires' services are currently available on the association's Online Stallion Auction site by CLICKING HERE.
Among the available stallions are AQHA Racing Champions and Champion sires to include All Valiant, Bernardini, Bf Farm Boss, Bodacious Dash, Bogart, Captain Toshky, Chickie Cherry Cola, Corona B, Dashair, Dashin By All, Dashing Jess Perry, Dealagame, Down N Dash, Ec Jet One, Famous Painted One, FDD Going Grand, Fire Breathing Wagon, First Down Mr Jess, First Place Eagle, First Prize Doc, First Timber and Flash The Light.
Also Four Six Jess, Gitngone, Heza Fast Rogue, High On Corona, Ill Be The Judge, Ima Ramblin On, Inseperable, Ja Jess Perfect, Jess Got Easier, Justified, King Cha Cha (TB), Kool Wagon, Lethal Corona, Mr Piloto, Mr.Special Colors, One Dashing Eagle, One Famous Diamond, One Sweet Jess, Paint Me Perry, Paintyourownwagon, Repete Offender, Rip Tide, Rite Favorite, Royal Challenger (TB), Stevie B First Cash, Tf Im That Guy, The Louisiana Cartel, Tres Kings, Triple Vodka, View Me Flying and You Drive I Fly.
For additional information contact Sally 701-751-0867 or Leon 701-391-8487 or visit the association's website at thendqhra.org.